INSIDE: Roam the Gnome's Guide to the Best souvenirs from New York.
Planning on some New York City shopping?
Lucky you!
If you are going shopping in NYC, you'll LOVE our SUPER-SIZED guide to shopping for New York souvenirs.
We've gathered a list of:
ALL the best places to shop in NYC
quirky shopping in Manhattan
the best things to buy in New York for board game fanatics, and purveyors of Halloween dress up costumes
bargain shopping in New York city and the best places to shop in NYC on a budget
the famous shops in New York, and
what to buy in New York for design aficiandos and book lovers, plus
gifts you can ONLY get in NYC – these are the ultimate souvenirs to bring back from New York.
Don't bother going elsewhere until you've read all the way to the bottom.
THIS is the ONLY list of NYC souvenirs you'll ever need. (We guarantee it)
Grab a cup of joe, and start your search below.
Disclosure: This article contains affiliate links. If you make a purchase after clicking on one of these links, we may receive a small commission at NO extra cost to you.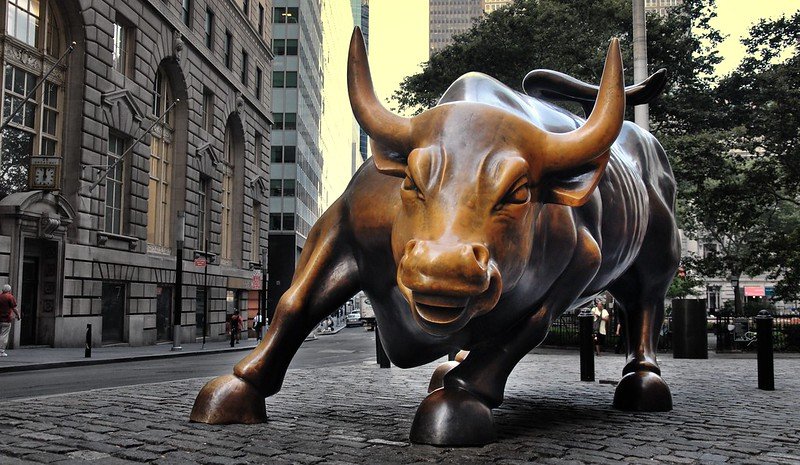 Image credit: Sam Valadi via Flickr CC BY-2.0
The Best Souvenirs from New York City for family & friends?
Correct at time of publication on Roam the Gnome. Please check with venue for updates. We apologise in advance if there have been any changes we are unaware of. All prices in AUD dollars, unless otherwise stated
We've organised the list of best souvenirs from NYC by category.
Click the headings in the contents box to go straight to a particular topic, or scroll the list from top to bottom.
We'll finish with the best shopping areas in NYC.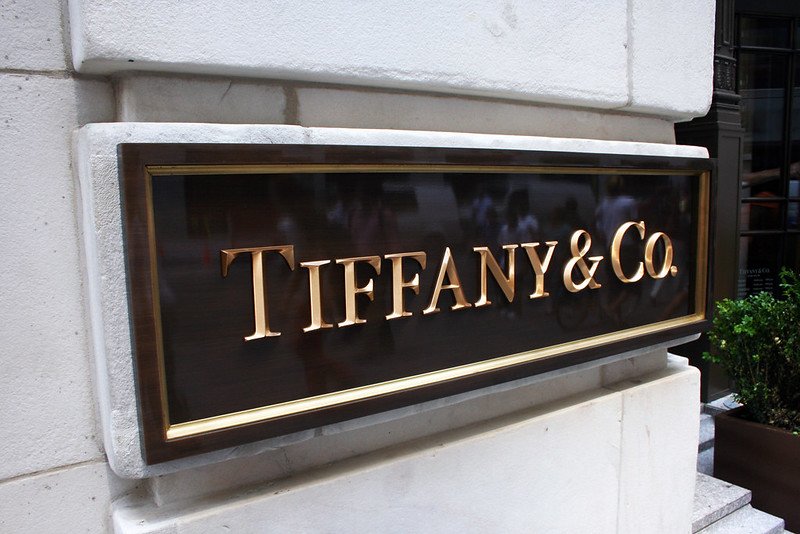 Image credit: Sunshine City via Flickr CC BY-2.0
THE BEST NEW YORK SOUVENIRS
No.1: Tiffany & Co Jewelry
Fans of Audrey Hepburn cannot visit New York without a visit to the iconic Tiffany & Co jewellery store on Fifth Avenue.
Made famous by the film, Breakfast at Tiffany's, this jewellery store in New York sells:
necklaces, pendants
bracelets, earrings, rings
charms and brooches
watches
Tiffany branded goods including luggage tags, fragrances, table wear, coffee and tea accessories, sunglasses, leather goods, novelties such as a dinging hotel bell, money boxes, and herb markers.
You don't have to spend a fortune. Silver keyrings start from $140 USD and a gorgeous pair of Elsa Peretti® Bean Design Ear Clips in sterling silver retail from $375. These are gifts you keep for life.
Hot tip: Reserve a table for your own Breakfast at Tiffany's experience in the Blue Box cafe, resplendent in the teal-hued Tiffany Blue®.
Buy now on Amazon: Can't afford the real thing? Wear a Sterling Silver Bean Charm necklace substitute till you can.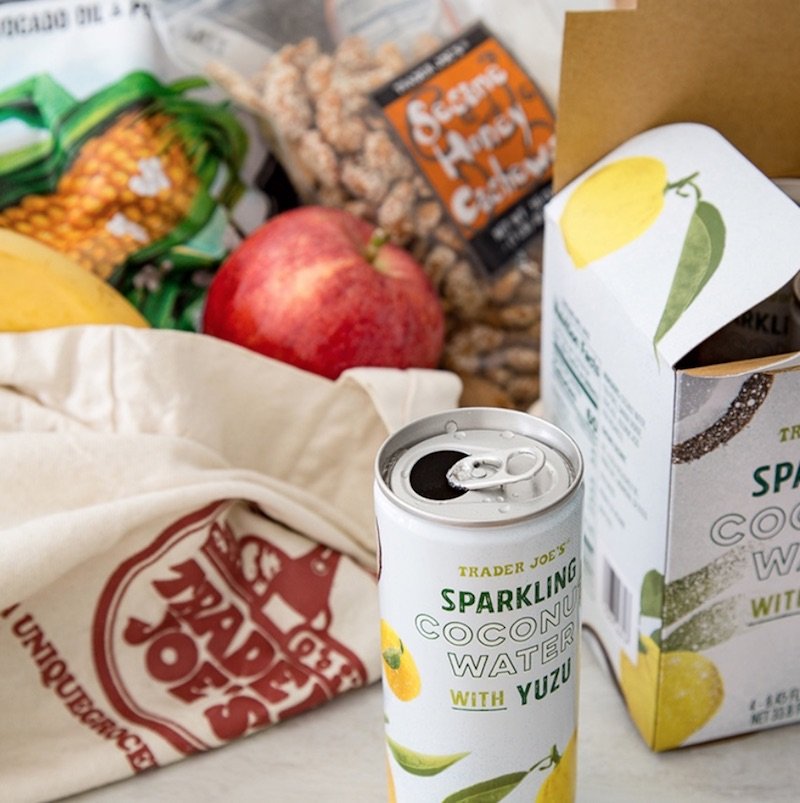 Image credit: Trader Joes New York
No.2: Reusable Shopping Bags or Grocery Bag from Whole Foods or Trader Joes
Become a REAL New Yorker by carrying a reusable grocery bag to the best New York grocery stores in town.
Pick one up next time you are shopping at Trader Joes, or from Whole Foods, the number one place for healthy food in New York.
Buy now on Amazon: Trader Joes New York Reusable Shopping Bags – 2 pack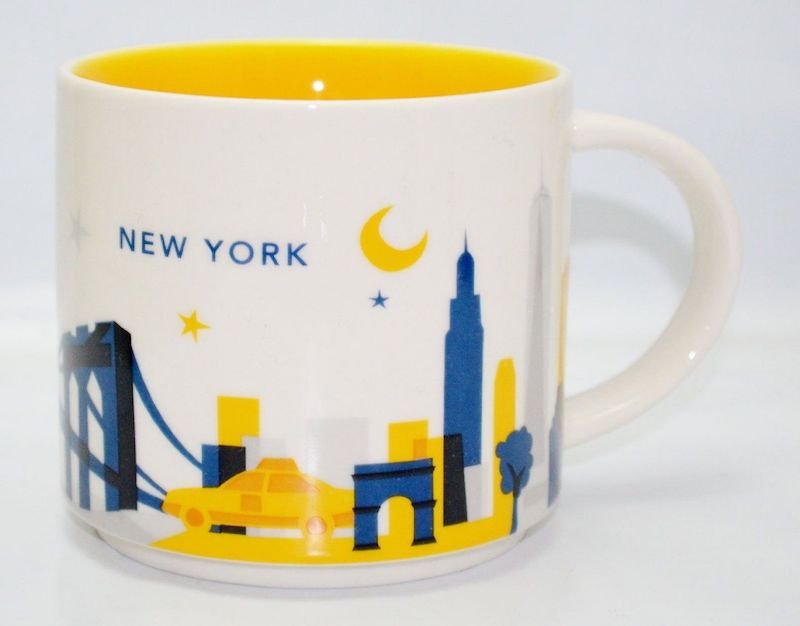 No.3: Starbucks You Are Here Mug from New York
You can't miss out on coffee at Starbucks while you are in New York, and while you are there, you can buy one of our favorite New York collectible souvenirs too.
The New York Starbucks You Are Here mug.
Starbucks Union Square is at 10 Union Square E, New York, NY 10003.
But there's a Starbucks in Manhattan on almost every street corner, or so it seems!
Buy now on Amazon: Starbucks New York City Mug Coffee Cup Special Edition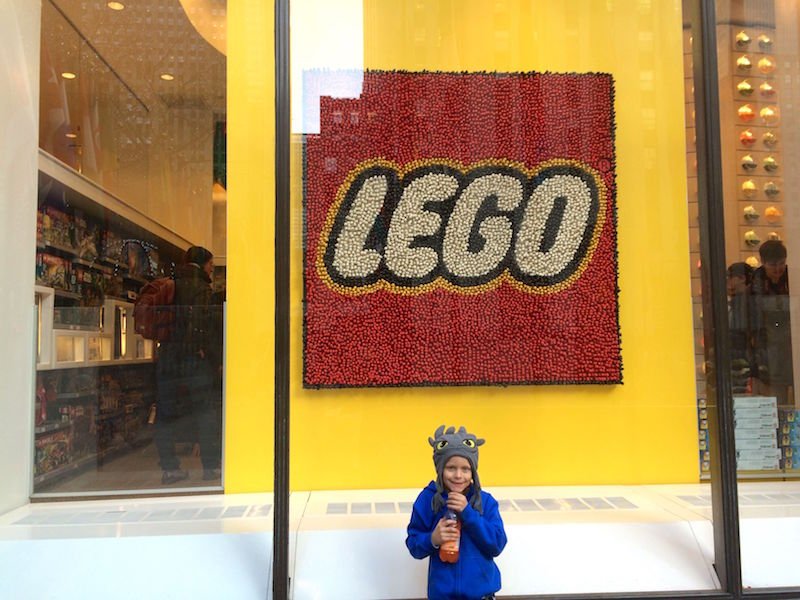 No.4: New York LEGO Kits from the LEGO Brick Store Rockefeller Center
Pick up exclusive New York LEGO at this awesome shop selling LEGO of all colors and shapes.
Plus the best range of:
New York themed LEGO kits
LEGO creator kits
Harry Potter LEGO
LEGO bricks by color (pick and mix)
and more.
Take a look at our LEGO Brick Store Rockefeller Center review for all the details.
Buy now on Amazon: LEGO Architecture New York City Build It Yourself New York Skyline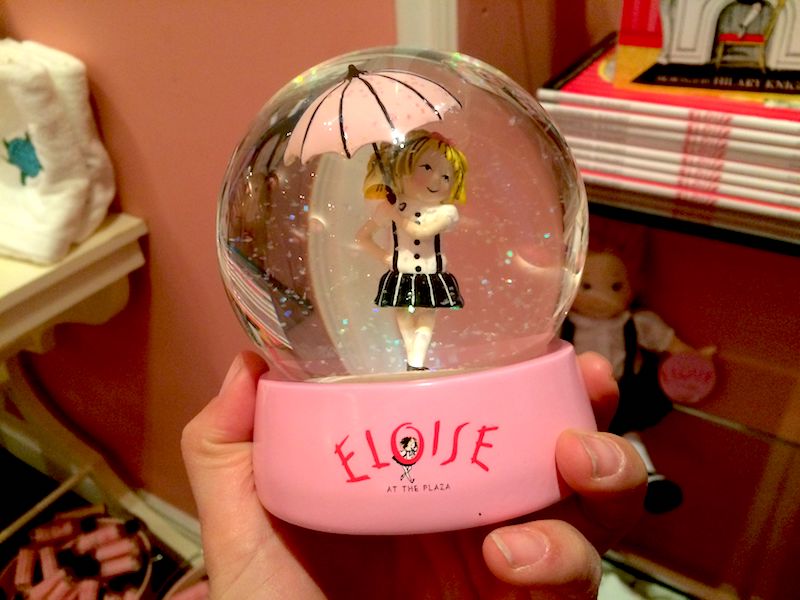 No.5: Eloise at the Plaza Souvenirs New York
Take your kids to visit the Eloise at the Plaza store in New York to find ALL the Eloise gifts including a very cute Eloise tea set, just like the one she'd use in her penthouse suite at the Plaza.
There's:
Eloise books
Eloise DVDs
Eloise dolls
Eloise clothing
Eloise stationery
Eloise dress up costumes
Eloise nail polish and makeup for kids, and
Eloise toys including puzzles and playing cards.
Click here for all the details.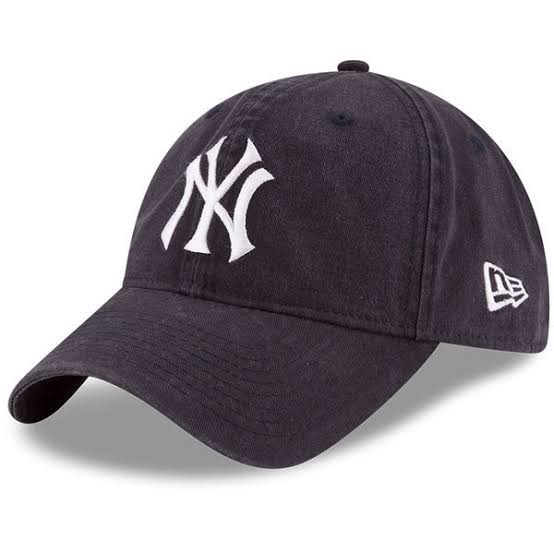 No.6: New York Sports Clothes
Take home an authentic piece of New York Sports merchandise from one of the New York teams, the Yankees, the Rangers, The NY Giants, The NY Mets, NY Jets, or the Knicks.
Buy a:
adjustable New York Yankees baseball cap
A woollen beanie
A team t-shirt or tank top
A pair of team socks
Baby clothes, swimwear
Bags, tote bags, and backpacks
Baseball gloves, baseball bats
Try Grand Slam New York New York City souvenirs shop at 1557 Broadway, New York, NY 10036 for authentic New York Yankees apparel and memorabilia.
Or Yankees Clubhouse Shop Times Square at 245 W 42nd Street SP1, Yankees Clubhouse 9040, New York, NY 10036, the official vendor for New York Yankees apparel, souvenirs and baseball gloves, bats and balls.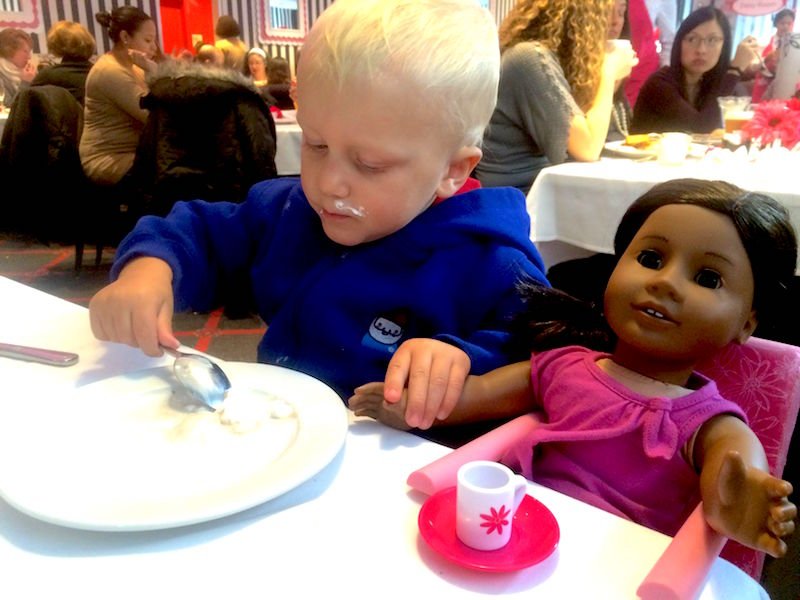 No.7: American Girl Place Rockefeller Center
Anyone traveling with girls in tow should pop into the iconic American Girl Place in Rockefeller Center, to see the best and biggest range of American Girl dolls and accessories.
You can even book a table at the American Girl Cafe and take your American Girl Doll to brunch!
Hot tip: Book well in advance to secure a spot.
Click here for all the details.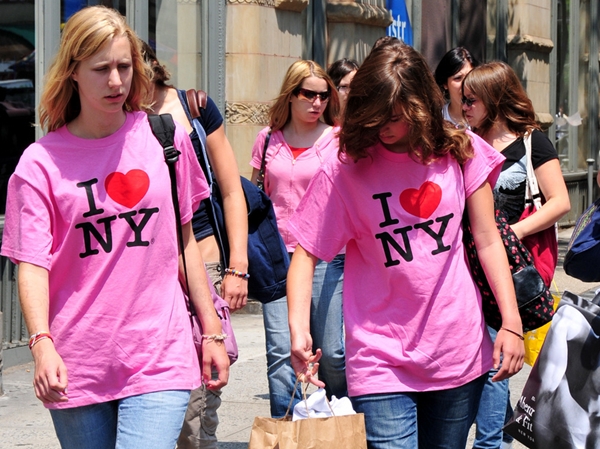 No.8: I love New York Shirt
An I Heart NY tee is a touristy souvenir from New York, but these I love New York tees make excellent pajama tops when you get home.
A New York t-shirt a wonderful memento of your time in the big city.
Buy now on Amazon:Classic I Heart NY short sleeve print t-shirt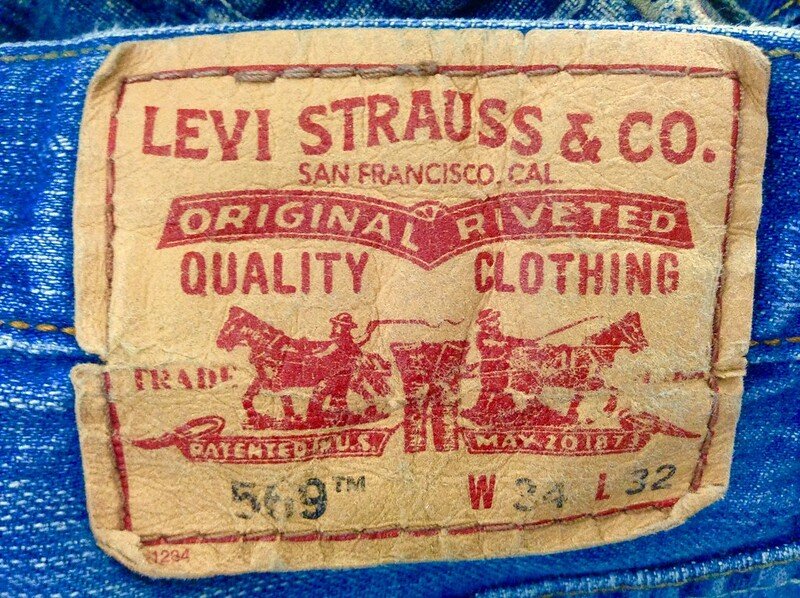 Image credit: Mike Mozart via Flickr CC BY-2.0
No.9: Levi's Store Times Square
Pick your favourite pair of skinny jeans or a classic pair of 501's from the Levis shop in Times Square.
Is there anything more American to buy in New York city?
The Levi's Store is at Times Square, 1535 Broadway, New York, NY 10036, USA
Buy now on Amazon: Levi's Womans Wedgie Skinny Jeans in Blue Spice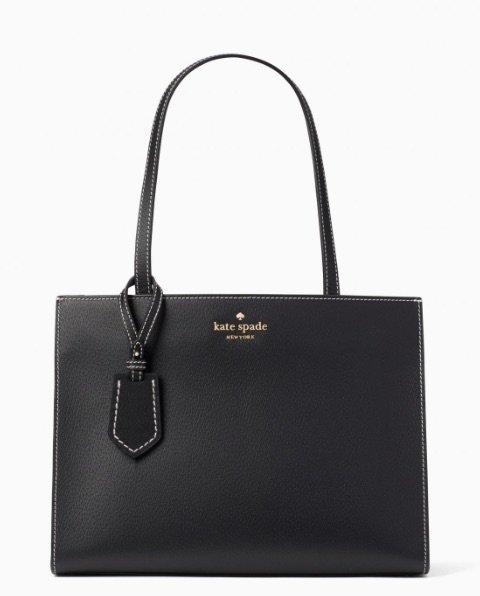 No.10: Kate Spade handbag
Don't leave New York without a brand new Kate Spade handbag.
Our pick is the original favorite – the Sam in black.
This classic Kate Space handbag comes in different colors and fabrics, but it's the boxy shape that seals the deal.
The Kate Spade store in New York is at 610 5th Ave Space C, New York, NY 10020, USA.
Buy Now: Click here for latest prices on Amazon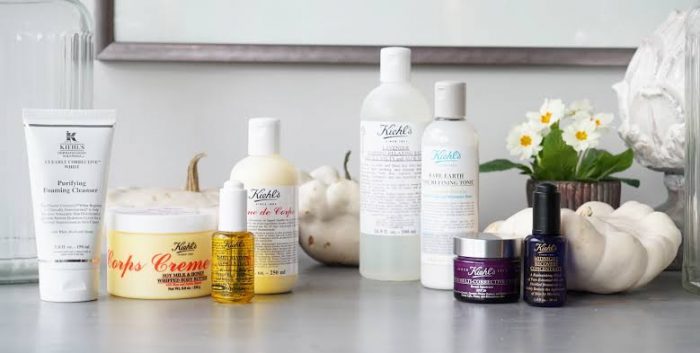 No.11: Kiehls Cosmetics since 1851
Kiehls beauty and cosmetics store is home to best selling skincare products to cleanse, moisturize and care for your skin. Kiehl's story began with one single pharmacy in Manhattan at Third Avenue and East 13th Street in 1851.
Their most popular product is their Kiehl's Ultra Facial Cream, a 24 hour daily facial moisturizer. But go in store to test these natural skincare range, and pick your favorites.
The Kiehl's Since 1851 Flagship store is at 109 3rd Ave, New York NY 10003
Buy Now: Click here for latest prices on Amazon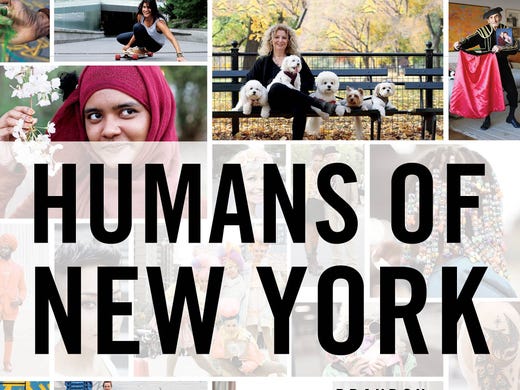 No.12: Humans of New York book by Brandon
Grab a copy of the Humans of New York book by Brandon Stanton.
The book features 400 color photos and all new stories, based upon the famous "Humans in New York" blog and facebook page, that shares the heartfelt, humorous and harrowing stories of local New Yorkers.
Brandon's photography is divine, but it's the inner stories and courageous sharing by the people he features that make this a best seller.
Buy Now on Amazon: Humans of New York coffee table book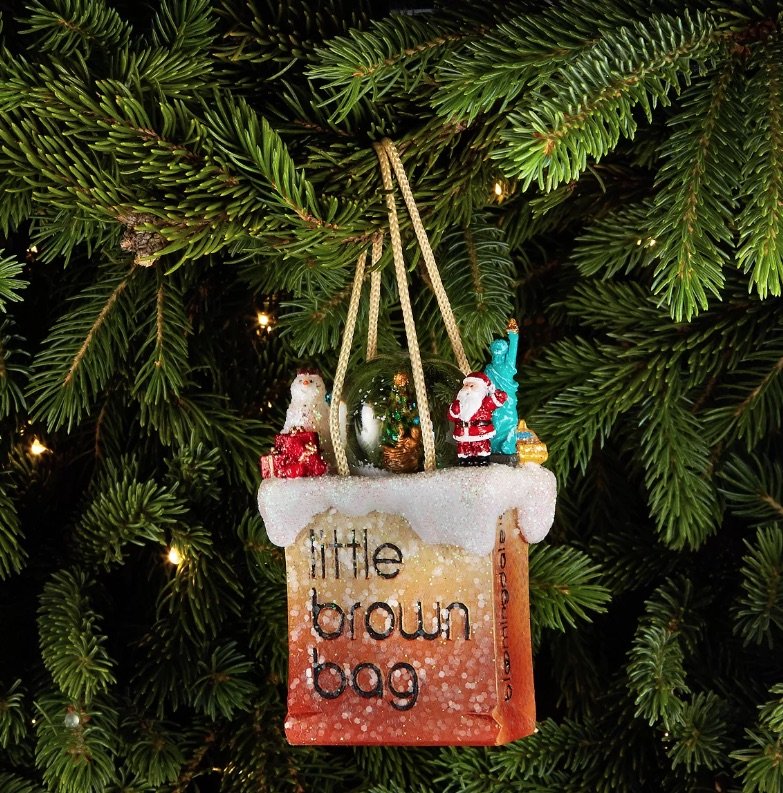 Image credit: Bloomingdales New York
No.13: Bloomingdales Christmas Decoration
A New York Christmas ornament is a souvenir that keeps on giving, year after year.
Head to Bloomingdales Department Store to find exclusive New York Christmas ornaments that you can't buy anywhere else.
Bloomingdales is one of New York's best Department Stores so don't miss a visit.
There's a Bloomingdales in Soho at 504 Broadway, New York and the Bloomingdale's 59th Street, at 1000 Third Avenue, 59th Street and Lexington Avenue, New York.
Buy now on Amazon: The Brown Bag Christmas Decoration from Bloomingdales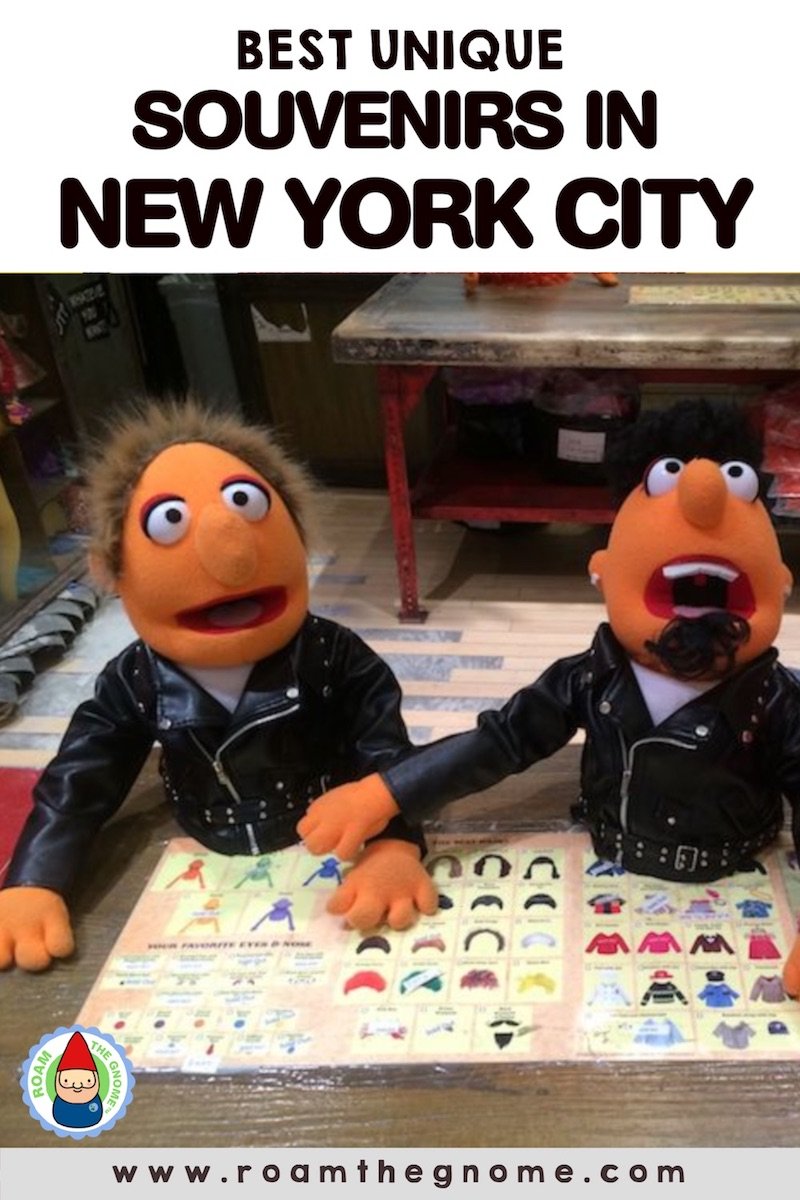 No.14: FAO Schwartz Muppets Puppets
These may not be the most practical of souvenirs but I guarantee you they are the most unique, and the one you'll never forget!
Head to FAO Schwartz Toy Shop in New York to make your own customizable Muppet doll for home.
They are adorable!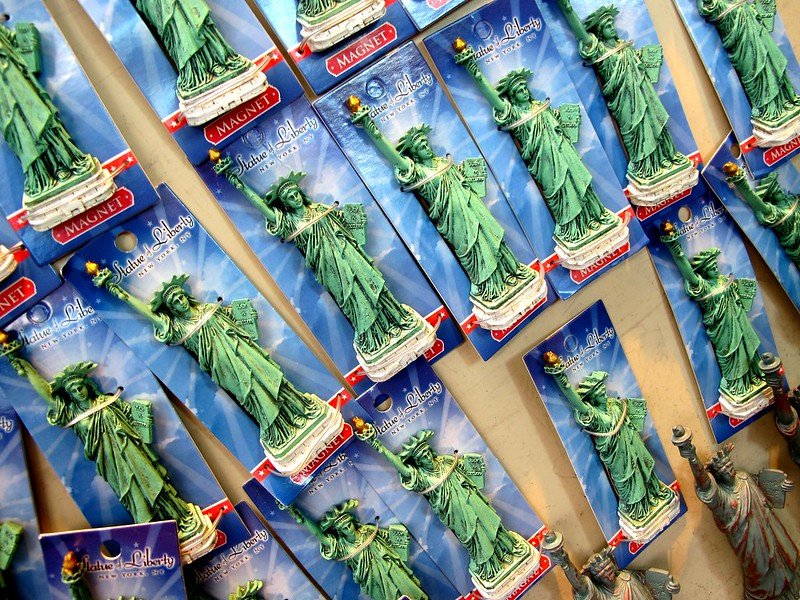 Image credit: FrankieLeon via Flickr CC BY-2.0
FAMOUS THINGS TO BUY IN NEW YORK
No.15: Statue of Liberty figurine
If a Statue of Liberty statue doesn't take your fancy, pick up a Empire State Building, One World Tower, or Flatiron Building statuette.
They make great paperweights to keep all your credit card bills and receipts from your New York City splurges together!
Buy now on Amazon: Statue of Liberty statue, 8 inches tall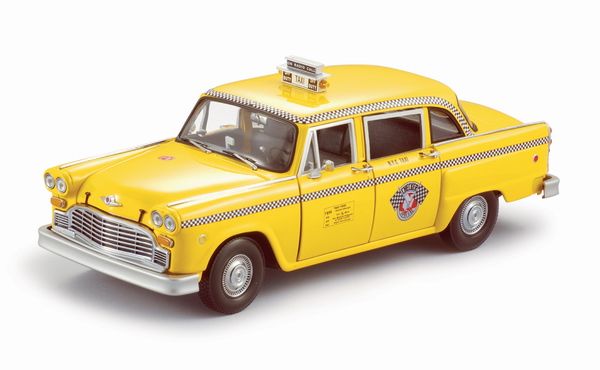 No.16: New York Cab Die Cast Vehicles
Looking to add to your collection of tiny vehicles from around the world?
A New York cab diecast vehicle is the perfect thing.
These make great NY souvenirs for kids too.
Buy now on Amazon: New York City Yellow Cab diecast toy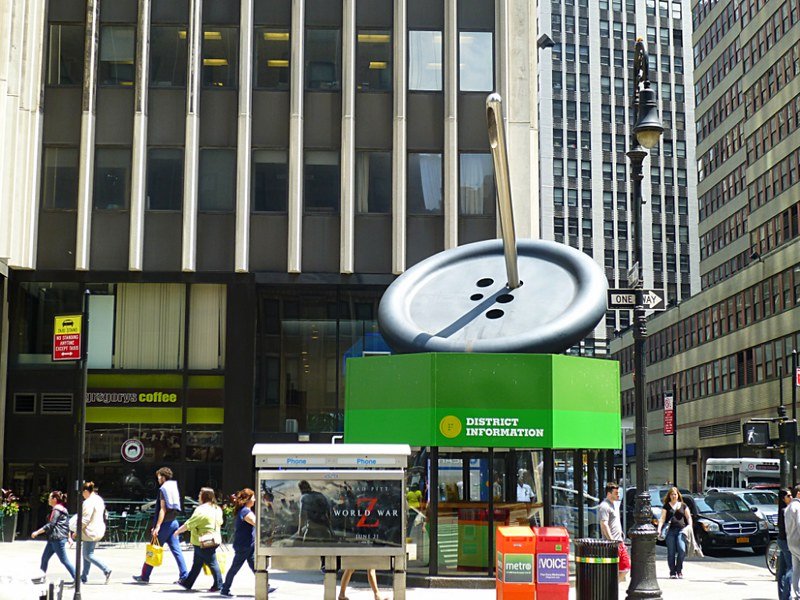 Image credit: Mike Licht via Flickr CC BY 2.0
BEST CLOTHES SHOPPING IN NEW YORK
No.17: Best NYC Clothes Shopping Tours
Our hot tip is to book a tour that will show you how to shop like a local in New York for clothes.
The best New York tours for shopping are:
See the bar owned by Steve and Aidan
Visit the church where Samantha meets "The Friar"
See the furniture store where Aidan designed his pieces
Stop at the store where Charlotte bought her Rabbit
Visit Buddakan, where Carrie and Big's wedding rehearsal dinner took place
See locations from the Sex and the City movies
Get some retail therapy like Carrie at Greenwich Village boutiques
Discover 4-5 unique boutiques and take advantage of shopping discounts
Meet designers and boutique shop owners
Get advice from your guide, a sustainable fashion designer
Sip on a happy hour drink, or two!
Here's a non-traditional shopping experience in NYC
Visit the famous Garment District for an insider tour of 6 private Designer Showrooms
Shop at wholesale prices
See historical landmarks in the area, and hot NYC sights too
Spend time with fashion knowledgable bargain hunters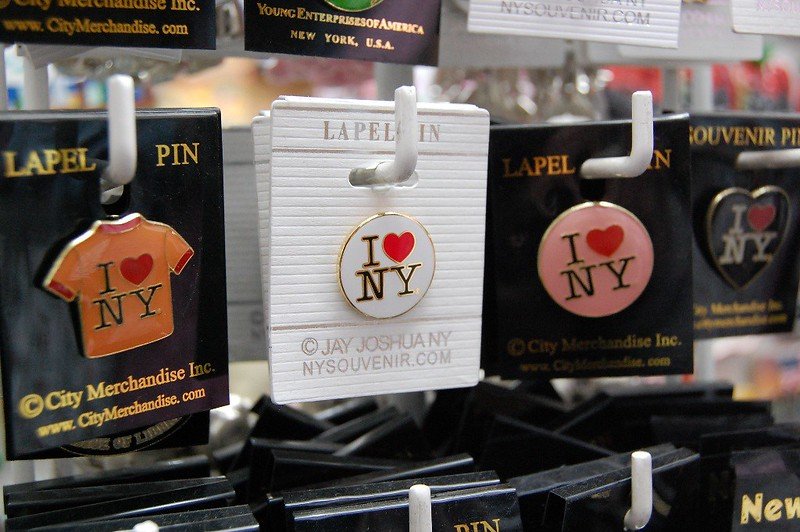 Image credit: Gen Cartalla via Flickr CC BY 2.0
CHEAP SOUVENIRS FROM NEW YORK
No.18:

New York

souvenir fridge magnets & more…
If you are looking for cheap things to buy in New York such as NYC memorabilia, or are wondering what souvenirs to buy in New York for the kid's school friends, neighbourhood kids, and anyone else you remember at the last minute, these are good souvenirs from New York.
New York souvenir coin (also called a New York pressed penny)

New York

iron on patches, or badges

New York

lapel pins
New York tea towel
New York tote bags
New York wall calendars
(See below for a list of the best souvenir shops in NYC)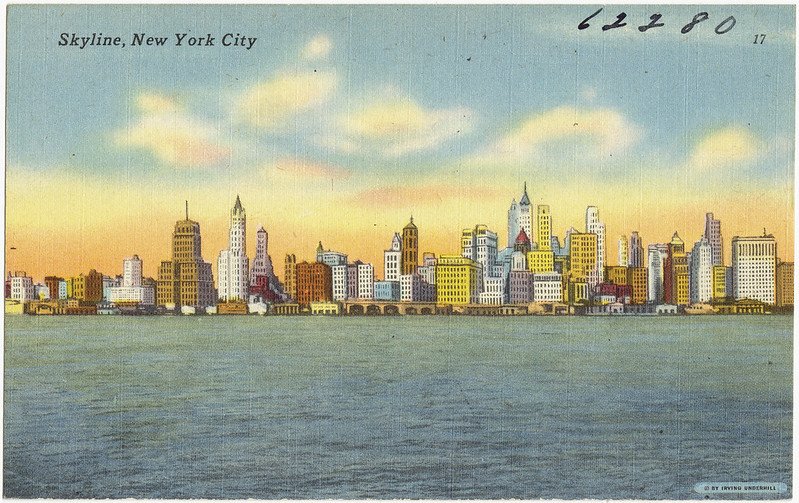 Image credit: Boston Library via Flickr CC BY 2.0
No.19: Best Budget Souvenirs from New York
The most popular New York City souvenirs for budget travellers are things you can collect for free as part of your New York tourist adventures, or on the cheap, and then display back at home.
Here's a few fun ideas of what to do with them:
Frame a set of cute NY postcards. (If they are vintage, all the better!)
Buy a Wall Street Journal or New York Times newspaper and frame the front page
Frame ticket stubs from the theater, or the playbill from that Broadway show you saw
Put all your NYC attractions tickets from places you visited (eg the Rockefeller ice skating, Madame Tussauds, Children's Museum of Manhattan, the Natural History Museum of New York, Empire State Building, subway tickets, Museum ticket stubs, etc ) into a shadow box to display
Collect New York matchboxes from hotels and restaurants you visit, and display them inside a jumbo cognac brandy glass
Frame a New York subway map or New York bus map
Frame your favourite New York City restaurant menus, or scan them and collect them all in a photo book
Souvenir book from a Broadway show or playbills
Frame a collection of New York restaurant coasters from your travels
Collect subway or transport cards (eg Metrocard) from the city, and display them in a wallet pouch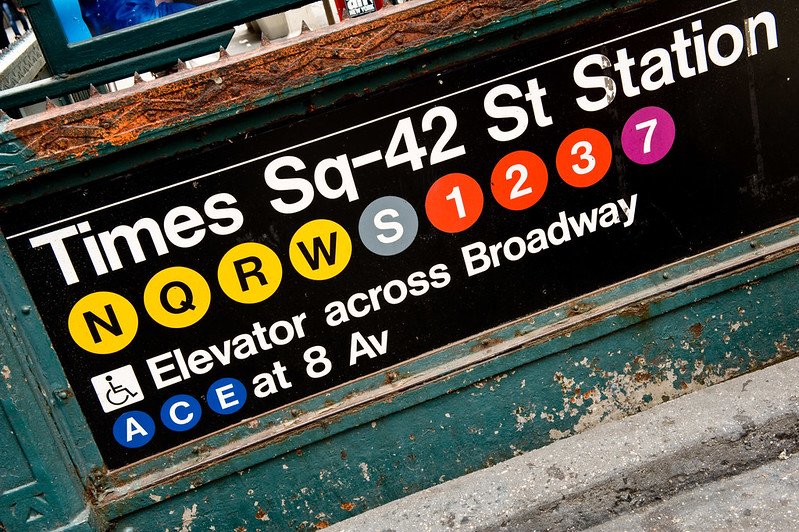 Image credit: Josh Hallett via Flickr CC BY 2.0
No.20: Best FREE Souvenirs from New York
Put these New York mementos in a collage under glass, or arrange an assortment of them on a pin board
New York shop receipts
New York sweets wrappers of candy and chocolate you don't have at home
Fold out tourist maps from the New York tourist information office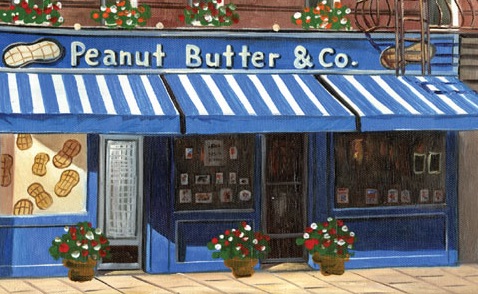 FOOD SOUVENIRS FROM NEW YORK
You can't go wrong buying someone a gift of food from New York, especially if it's candy, chocolate, or American snacks.
Check out the best candy stores in NYC below, as well as the best chocolate shops in New York.
No.21: Best American Snacks Made in New York
These are a few more options when it comes to food souvenirs to bring back from New York.
These are perfect gifts if you are wondering what to buy in New York for foodie friends and family.
Peanut Butter & Co peanut butter
HIP Artisan brand of jams, jellies, and marmalades
Mini black and white cookies from William Greensberg desserts
Mama Lam's hot sauce and curry pastes
Maya's Syrups and Jams
Cookies from the Brooklyn Cookie company
Squish marshmallows ( you know you want to!)
Sweet Muse brownies
Sustainable snacks (plant based bites)
Momo dressing – hand crafted Japanese salad dressings
Brittle and Beyond candy
Check out all the Made in New York items here.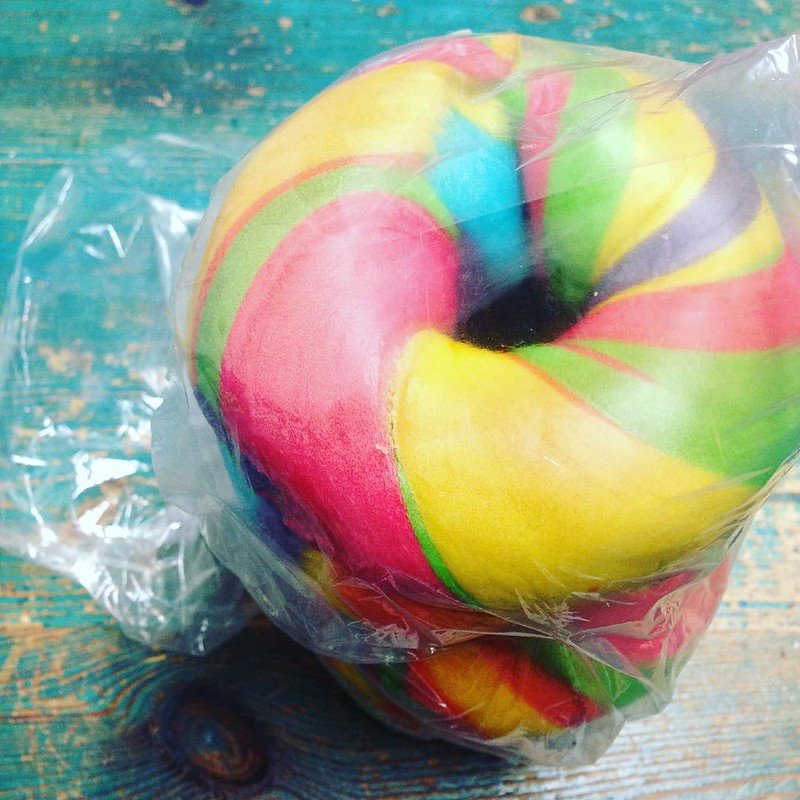 Image credit: Louise McLaren via Flickr CC BY-2.0
No.22: Famous New York Food to Eat on the Go
You can also taste test the following iconic New York food as you wander under the New York city skyline!
Burger from Shake Shack
Lox and cream cheese bagel from Zucker's Bagels
Juniors cheesecake – New York's most famous cheesecake
Red Velvet cake from Piece of Velvet in Brooklyn
Hot dogs from Nathan's Famous
New York pizza by the slice
Banana Pudding from Magnolia Bakery, or a cupcake (made famous by Sex and the City)
A Pastrami sandwich or a Reuben sandwich with corned beef from Katz Deli
Zola Bakes instagram famous rainbow cookies
Rainbow Bagels from The Bagel Store
Cookie dough from Cookie DŌ
Chocolate dipped pretzels from Fatty Sundays
Cronut from Dominique Ansel bakery
Frozen Hot Chocolate from Serendipity 31
Meatballs from the Meatball Shop
If you are still hungry, check out the Food Trucks near Radio City Music Hall.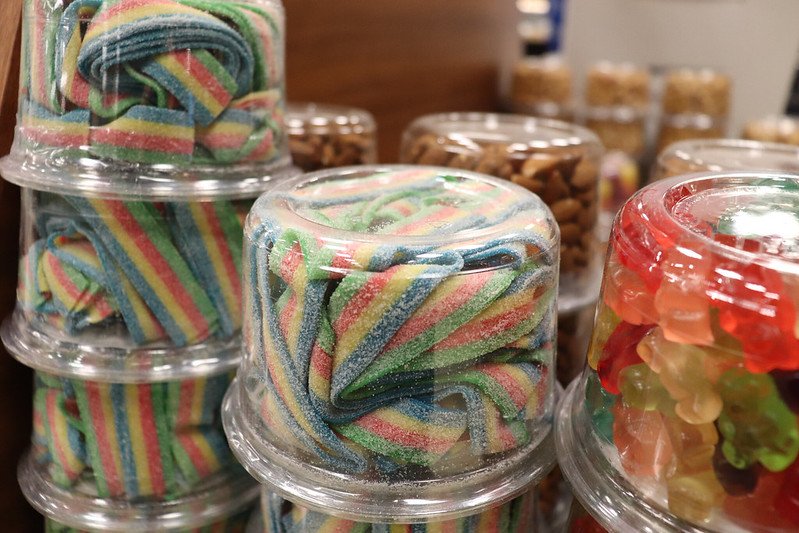 Image credit: Elizabeth Chamberlain via Flickr CC BY 2.0
THE BEST NEW YORK CANDY STORES
No.23: Best American Candy to try
Want to know where to buy fudge in NYC?
Or searching for unique American candy to take home?
Find American candy bars such as:
gobstoppers
Fun dip
Nerds candy
Taffy
Payday bars
Pixy Stix
Skittles
Sour power candy
Jelly Belly beans
Candy jewelry, including candy watches, ring pops, and candy necklaces
Gummies, and
Candy by the pound.
Visit one of these shops below.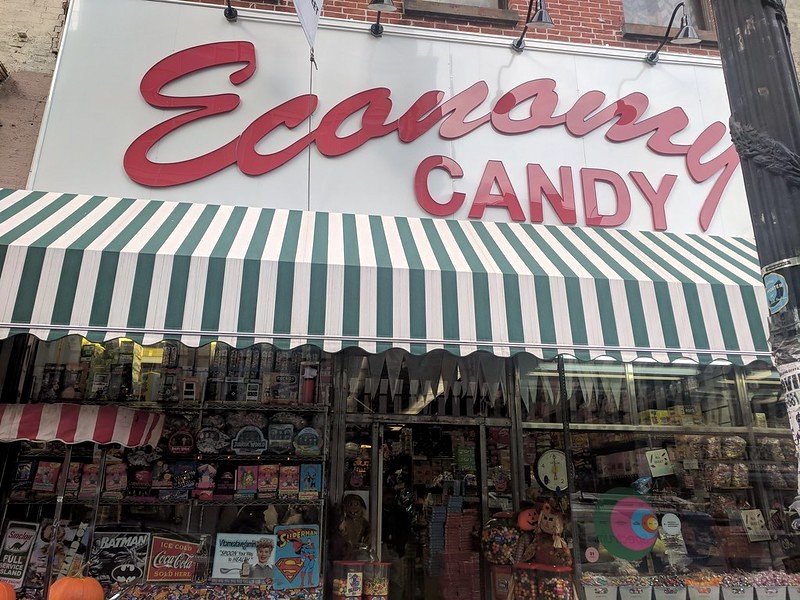 Image credit: Cory Doctorow via Flickr CC BY-SA 2.0
No.24: Economy Candy New York souvenirs
This shop is floor to ceiling candy and is one of New York's iconic candy stores since 1937.
Their best sellers include:
chocolate covered graham crackers (with and without jelly)
chocolate covered pretzels
jelly rings
gummies and
penny candy.
Look out for their decade mixes, a tub of the best American candy from the 1950s, the 1960s, the 1970s, the 1980s and the 1990's.
Find Economy Candy at 108 Rivington St, New York.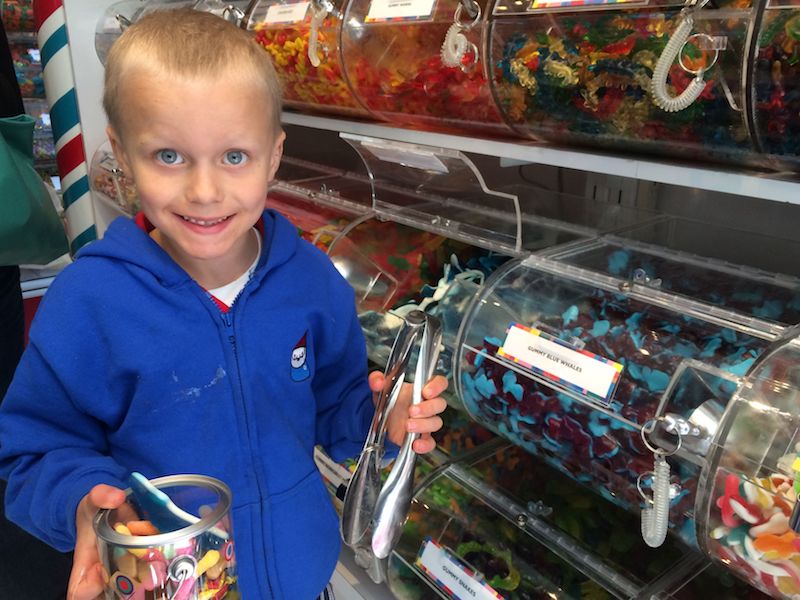 No.25: Dylan's Candy Bar Flagship Store
One of our favorite candy shops in New York is Dylan Candy Bar.
It's NOT cheap, but it's the place to find unusual and unique candy in New York.
Fill a jar, or a tin with all your fave penny candy, some of which are exclusive to Dylans Candy shop.
Book a table at the cafe upstairs for a real sugar rush!
Visit the Flagship Dylans Candy Store and Restaurant at 1011 Third Ave, New York, near Central Park.
Image credit: Sean Farrelly
No.26: The Sweet Shop NYC treats
Pop in for a visit to the Sweet Shop NYC, the nostalgic candy store in New York.
They specialize in retro candy and sweets that take you back to your childhood, plus:
handmade chocolates
handmade fudge
licorice
gelato and
desserts.
Do not visit if you are watching your waistline.
The artisan ice cream is too much temptation!
Visit at 404 East 73rd Street, between 1st and York Avenues, New York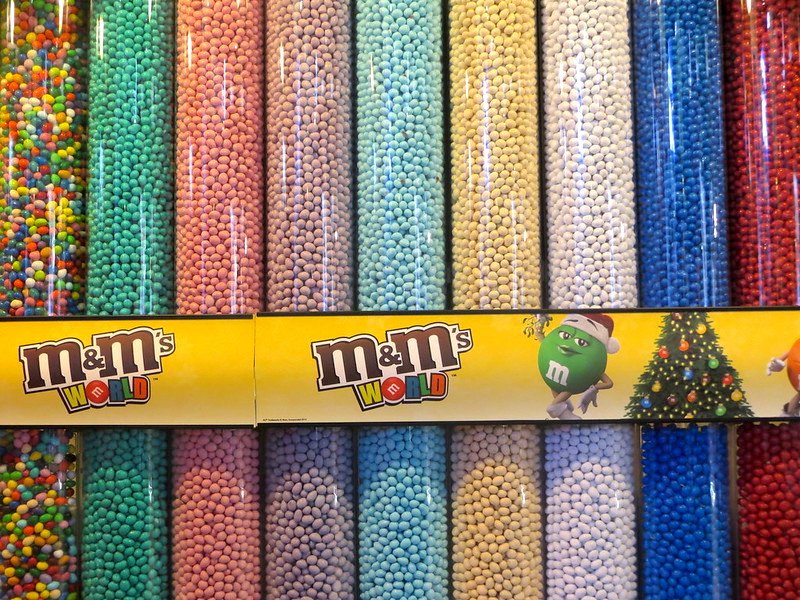 Image credit: Alex Liivet via Flickr CC BY-2.0
No.27: M&M's World New York gifts
Buy your favorite M&M's candy from this shop, a bright explosion of color and interactive games, exhibitions and merchandise.
This shop is an experience, not just a place to buy junk food.
Look out for the pick'n'mix Color Your World wall, an ode to M&M's in every color choice available.
Find M&M world New York at at 1600 Broadway, New York.
Image credit: Alex Liivet via Flickr CC BY-2.0
THE BEST NEW YORK CHOCOLATE SHOPS
The best New York chocolate can be found at any one of these New York chocolate shops.
No.28: Hershey's Chocolate World Times Square
Yes, this is a tourist trap but gosh it's fun to visit Hersheys Chocolate World in Times Square to buy up a few big bags of the iconic Hershey's Kisses, wrapped in silver foil.
You can personalize your own HERSHEY'S Milk Chocolate Bar wrapper, or surprise your loved one with an in-store message on the display board!
Try a signature Hershey's dessert from the Hershey's Kitchen Bakery while you are here, but most importantly, don't leave till you've tried the HERSHEY'S Double Chocolate S'mores made instore!
Find these NY souvenirs at 20 Times Square building, at 701 7th Ave, New York.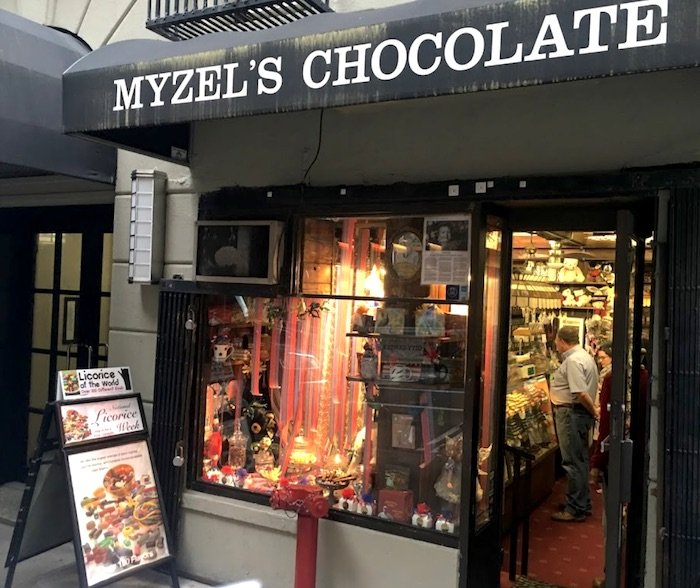 Image credit: Myzel's Chocolate
No.29: Myzel's chocolate gifts
Myzel's is a boutique European-style chocolate shop featuring:
handmade truffles
cookies &
over 100 flavors of licorice.
Their ultimate chocolate cookie is the reason to visit. You will not find another cookie like it in Manhattan.
Buy a gift box.
Find the best NYC souvenirs for chocoholics at 140 W 55th St # 1, New York.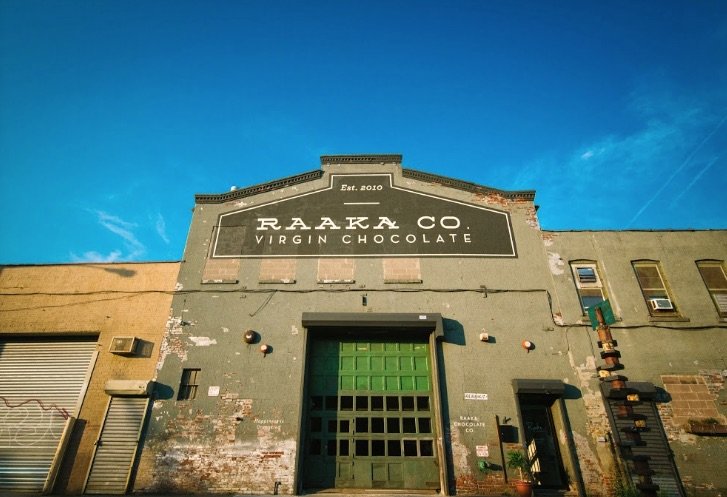 Image credit: Raaka Chocolate Co.
No.30: Raaka Chocolate Brooklyn
Raaka choocolate shop makes their chocolate from scratch, bean-to-bar, in Red Hook, Brooklyn.
Join a tour of the New York chocolate shop, or take a chocolate making class.
They run several times a week.
Visit at 64 Seabring Street Brooklyn, NY 11231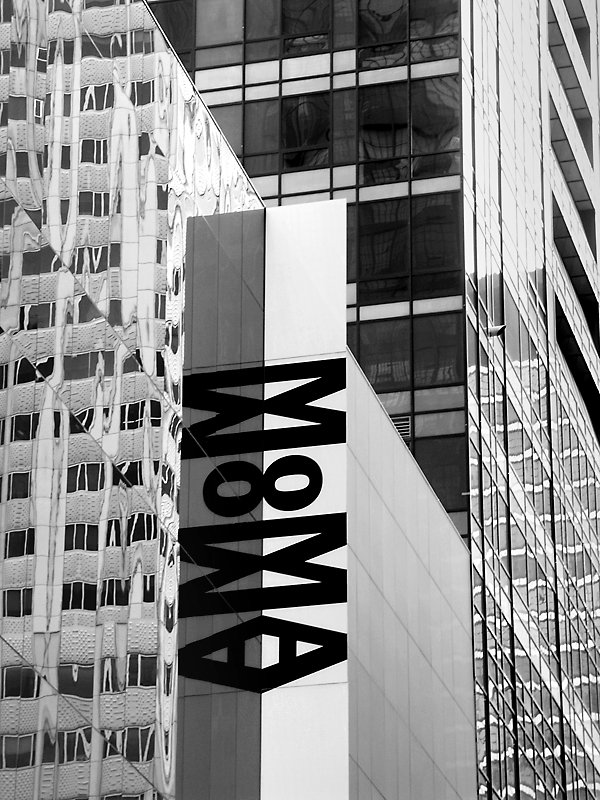 Image credit: Bruce Berrian via Flickr CC BY-2.0
THE BEST NEW YORK MUSEUM SHOPS FOR UNIQUE NEW YORK SOUVENIRS!
No.31: MoMA gift shop souvenirs
MoMA Design Store next to the lobby of MoMA museum in New York has over 2,000 publications representing each of the Museum's curatorial departments.
Plus an unbelievable range of curated New York gifts and souvenirs including:
clocks
candleholders
pillows
throws
rugs
flatware
kids arts and crafts
kids toys
New York prints
scarves
gloves
umbrellas, AND
a range of MoMA exclusives such as MoMA & Vans collaboration, and
a cool sweatshirt designed in conjunction with Yoko Ono.
Keep an eye on the MoMA events.
You can meet the Design store buyers to hear first hand how they do what they do, there's book signings, monogramming events, story times, and more.
Find it at 11 West 53 Street, NY, between 5th and 6th Ave (Reopens on October 21st 2019)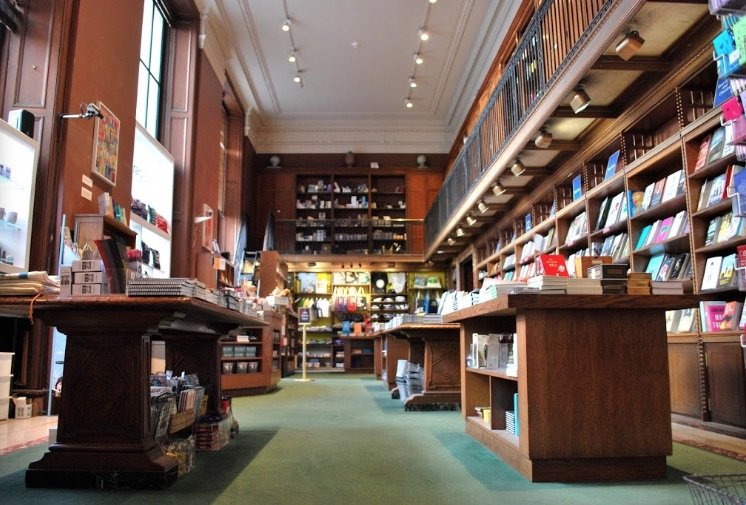 No.32: New York Public Library Gift shop souvenirs
Find quirky authentic New York souvenirs at our favorite shop in New York.
Pick up a NYPL library card enamel pin, a hoodie, a stainless steel water bottle, or a library tote bag.
There's:
quote bookmarks
desk caddies for all your New York stationery
world globes
design NYC t-shirts
funky ties
silk printed scarves
fabulous socks
hand crafted jewelry
This shop is the place to go to find ALL the New York books for adults and kids, New York travel guides, and New York coffee table books.
Open Monday to Saturday from 10am to 6pm, at Fifth Avenue and 42nd Street, New York, NY 10018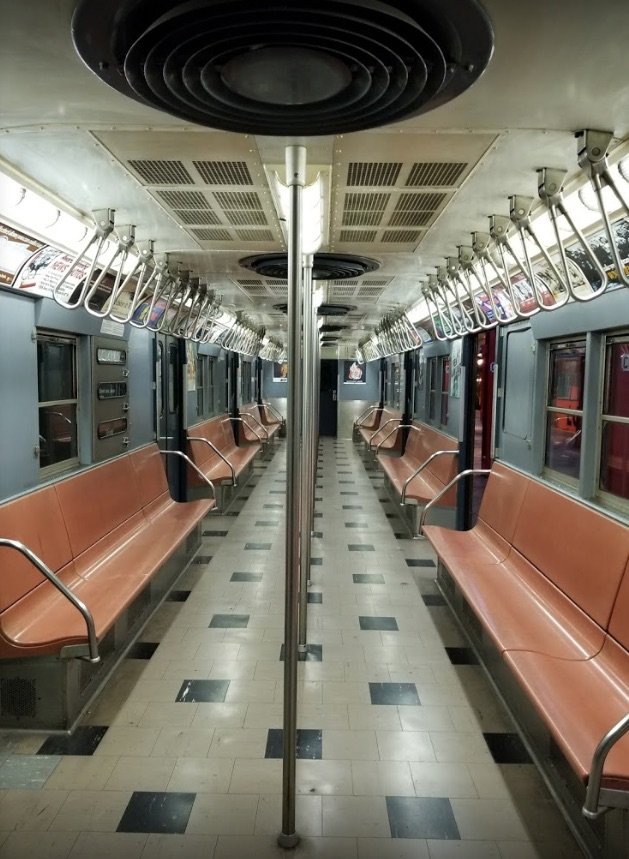 Image credit: Jimmy Roche
No.33: New York Transit Museum Store souvenirs
This is another cool museum shop in New York selling all kinds of New York souvenirs and memorabilia.
Find:
Back To School gifts
New York bus toys
New York subway toys
model trains
jewelry
totes and backpacks
desk accessories
NYC home decor, and tableware
All of the above feature famous New York transport icons including:
the subway
Grand Central Station
metro cards,
subway maps
subway tokens etc.
The NY Transit Museum & Store can be located at 99 Schermerhorn St, Brooklyn, New York.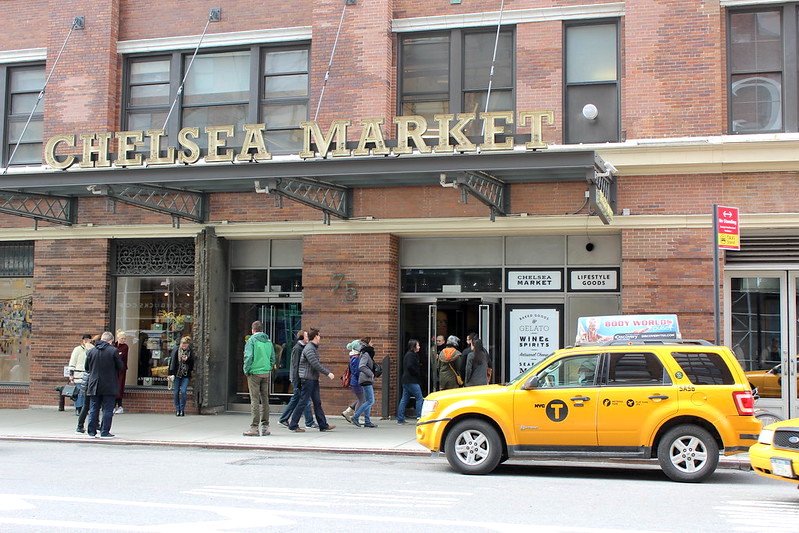 Image credit: Shinya Suzuki via Flickr CC BY-ND 2.0
BEST NEW YORK MARKETS
Visit any of these New York markets to find that one-of-a-kind New York gift for friends and family, eat up big at the food trucks, and soak up the locals-only atmosphere.
No.34: Chelsea Market souvenirs
An enclosed urban food court and shopping mall in the Meatpacking District of New York, the Chelsea market attracts over 6 million visitors a year to this gourmet indoor food hall.
The Chelsea market is housed in a building, not far from the Hudson river greenway.
It covers an area that is a block wide, and a block long.
Chelsea food vendors sell:
hot bread and soup
fresh crepes and baked goods
nuts, spices
artisan chocolates
fruit and vegetables
sausages
sushi
Italian food
classic American ice cream
smoked meats
doughnuts
wine
coffee and tea
cheese
flowers
desserts and cheesecake.
You'll also find the Artists and Fleas market, Anthropologie, and Neighbourhood goods variety store.
It's open 7 days a week from early till late.
Find Chelsea Market at 75 9th Ave, New York.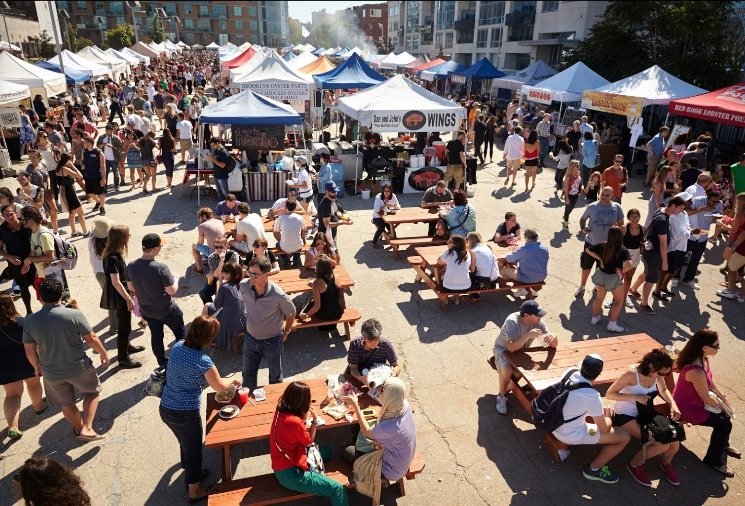 Image credit: Smorgasboard
No.35: Smorgasboard Markets gifts
A fun atmospheric seasonal outdoor foodie market on Saturdays in Williamsburg Brooklyn.
There's 100+ vendors and views of the NYC skyline as a bonus!
Find it at East River State Park, 90 Kent Ave. (at N. 7 St.) Brooklyn
Hot tip: You'll also find a smaller Smorgasboard market at the World Trade Center on Fridays from 11-7pm at Oculus Plaza, Manhattan.
On Sundays, head to Prospect Park, Breeze Hill on East Drive at Lincoln Rd. Brooklyn, NY.
Shop from over 100+ vendors here.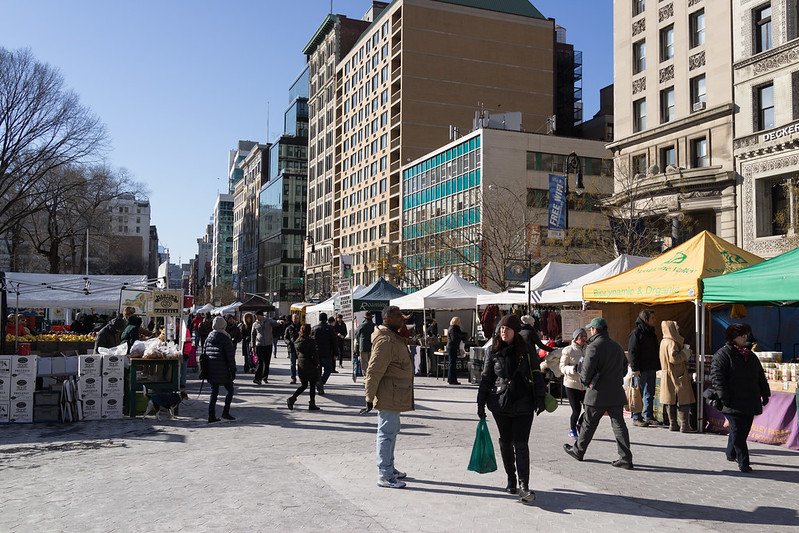 Image credit: Edsel Little via Flickr CC BY-SA 2.0
No.36: Union Square Green Market souvenirs
The Union Square Greenmarket is a farmer's market in New York that has been in place since 1976!
Find:
just-picked fresh fruits and vegetables
heritage meats
award-winning farmstead cheeses
artisan breads
jams
pickles
cut flowers and plants
wine
ciders
maple syrup and more.
There's cooking and tasting demos, book signings, pop ups and interactive displays.
Join the 60,000 odd strong crowd to experience this green market in New York.
Hot tip: Go early to get the best stuff.
Open Monday, Wednesday, Friday and Saturday all year round from 8am to 6pm at North and West sides of Union Square Park .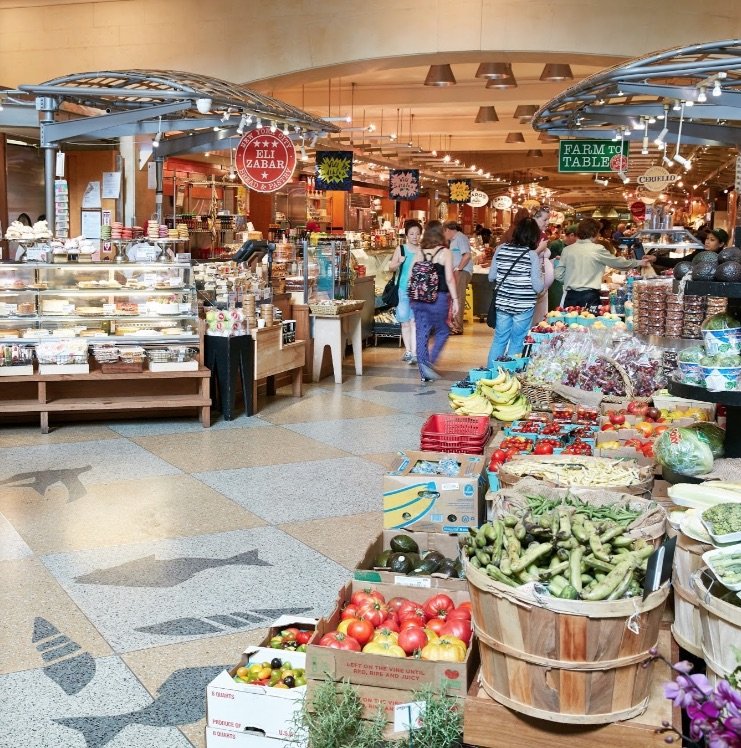 Image credit: Grand Central Market
No.37: Grand Central Market at Grand Central Terminal New York
13 local vendors sell all kinds of commuter-friendly food and drink.
It's a great place to go for New York gift boxes for foodies.
You can buy Li-Lac chocolate, and pick up coffee or spices.
Look for fun food-themed gifts from taco socks to practical kitchen gadgets at the E.A.T. pop-up.
Find it at the Grand Central Station, between the Graybar Building and the 4/5/6 Subway lines on Lexington Avenue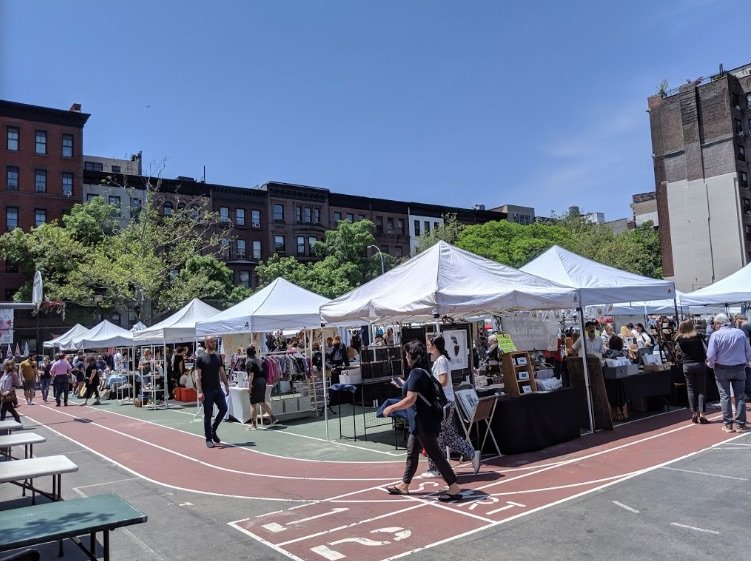 Image credit: Neo Lan
BEST FLEA MARKETS IN NEW YORK
No.38: Green Flea Market souvenirs
Do not miss the Green Flea markets, the best indoor and outdoor market in Manhattan. Open Sundays 10am to 5.30pm, rain or shine.
30 years strong, you'll find a huge selection of antique, vintage and artisan vendors selling everything from handmade and vintage clothing , home decor, jewelry, fashion accessories, and imported goods from Nepal, Tibet, India, China, Burma, and Thailand.
The collectibles vendors are the best!
Look out for:
stamps
comics
baseball cards
vintage tea cups
American bric-a-brac
enamel pins
antique prints
miniature collectibles
shells and stones
vintage American college banners
rare coins
artefacts and glass bottles.
If you love to shop for cool and crazy souvenirs in New York, head to 100 West 77th St, New York. 10024.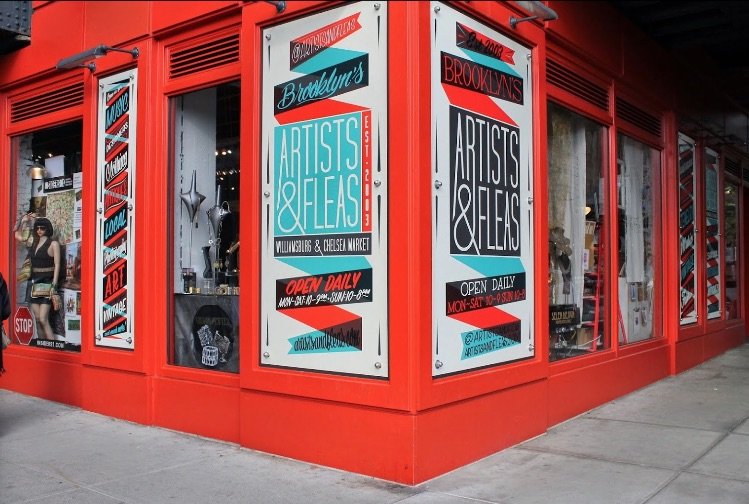 Image credit: Artists & Fleas Chelsea market
No.39: Artists and Fleas New York Markets
Artists and Fleas is a marketplace of makers including "tastemakers, experience creators, designers, collectors and curators".
It's THE place in New York for handmade goods and things of good design in Manhattan.
Shop for:
hand-crafted jewelry
soaps and beauty goods
fun hats and caps
handmade shoes and boots
fabulous clothing and shirts
maps, prints
laser cards
puzzles
cushions
handbags, and
very cute New York souvenir stationery, souvenir prints and canvases.
There's an Artists and Fleas market in Chelsea and SoHo in Manhattan, and another in Williamsburg, Brooklyn.
The Chelsea Artists and Fleas market is at 88 10th Avenue at West 15th Street.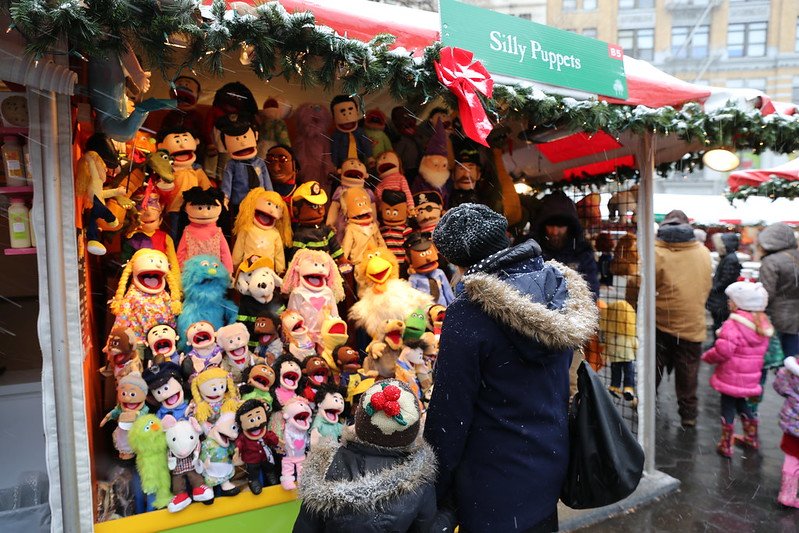 Image credit: Mack Male via Flickr CC BY-SA 2.0
NEW YORK CHRISTMAS MARKETS
No.40: New York Christmas souvenirs
The best Christmas markets in New York City for shopping and a jolly Christmas atmosphere are:
Bryant Park Holiday Market
Union Square Holiday market
Manhattan Christmas Markets
Grand Central Terminal Holiday Fair
Columbus Circle Holiday Market
You can also visit the Christmas in New York shop in Little Italy for Christmas decor, ornaments & collectibles, with personalization available.
The Aladdin's cave that is the Christmas Cottage in the Wellington Hotel on 871 7th Ave, New York is said to be the oldest Chrismas decor store in New York.
They've been in business for over 32 years, selling unique Christmas goods you won't find anywhere else.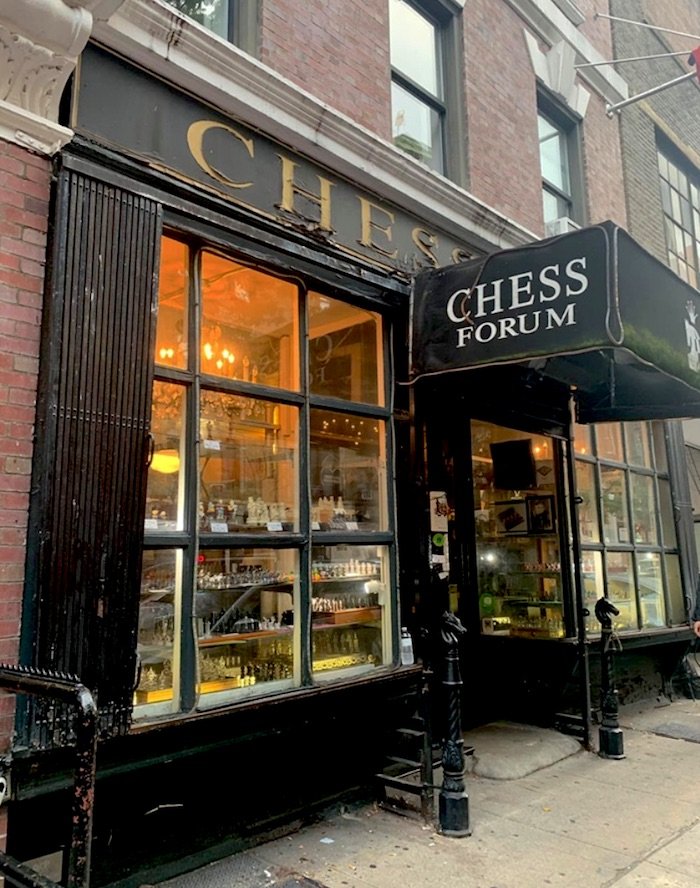 MORE FUN STORES IN NYC FOR NEW YORK GIFTS & SOUVENIRS
No.41: Chess Forum New York souvenirs
The best shop in New York for strategists who LOVE a good chess game.
Find chess boards, chess pieces, plus computer games & backgammon gear at 219 Thompson St, New York.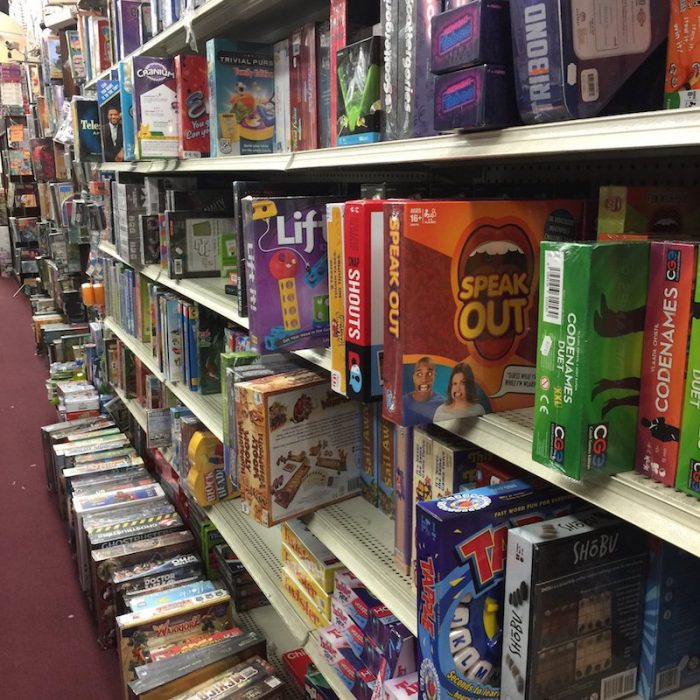 Image credit: TCSBGS on Facebook
No.42: The Compleat Strategist Board Game Shop souvenirs
The Compleat Strategist in New York City has been in business for four decades.
This gaming headquarters stocks a gigantic collection of:
board games
role-playing games
family and party games
dice and dice games
collectibles
toys
collectible card games
miniatures, and
chess sets too.
Visit in store at 11 E 33rd St, New York.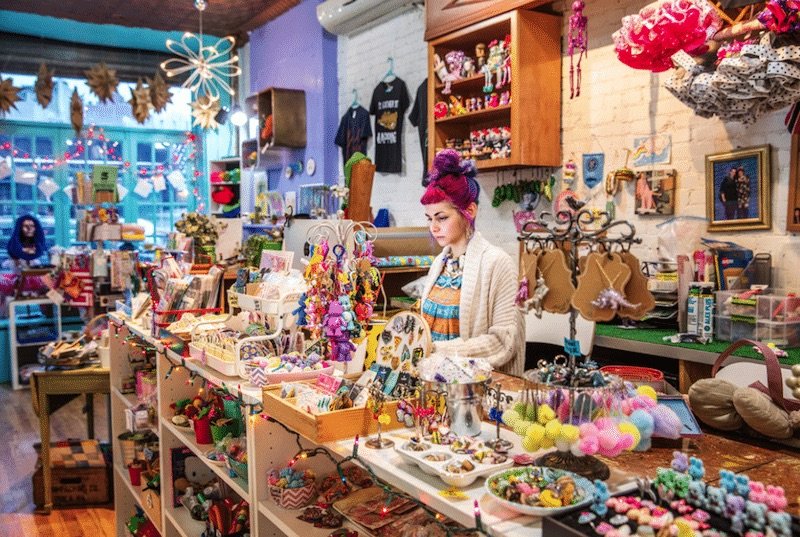 Image credit: Peculiar Planet
No.43: The Peculiar Planet Brooklyn New York souvenirs (formerly Planet Cute)
Their motto is 'where the weirdos shop' but it's really the home of:
CUTE and wacky enamel pins
apparel
home decor
stationery
stickers and
plush toys.
Find brands including Tokidoki, Sourpuss, Pusheen, Irregular Choice shoes, and Aluminium Bunny cards, pins and stationery.
Visit the store in person at 704 Washington Ave, Brooklyn, NY 11238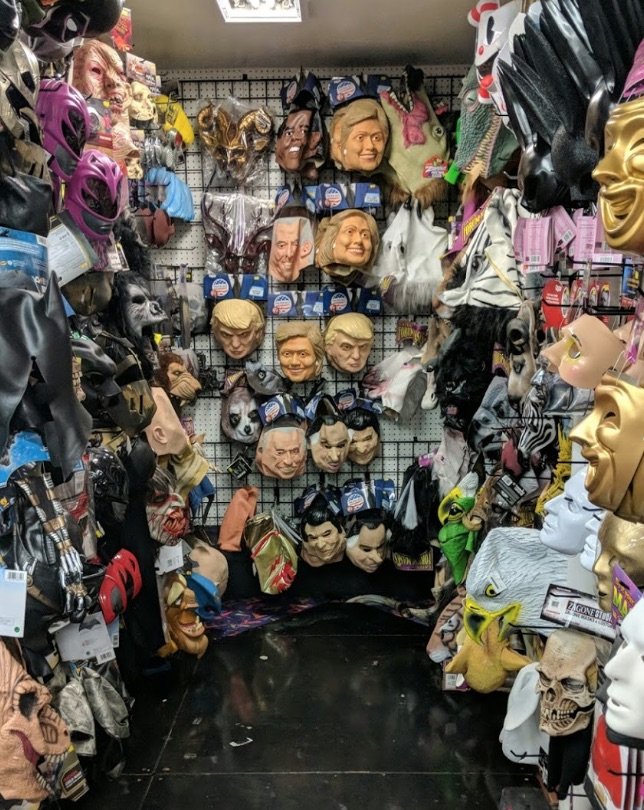 Image credit: Joshua Bernstein
No.44: Abracadabra NYC dress up costumes
If you have a budding magician or a kid who loves to dress up, (or perhaps YOU love to dress up), visit Abracadabra in New York City.
It's a mega-store full of:
hand-crafted costumes
masquerade masks
makeup
accessories
wigs
props, &
magician's supplies.
Find both cute and grotesque costumes for Halloween, events, and dress up costume parties too.
They have a prop and costume rental service, or one of their seamstresses can whip you up a custom outfit of your choice.
Get your spook on at 19 West 21st Street, between 5th and 6th Ave, New York.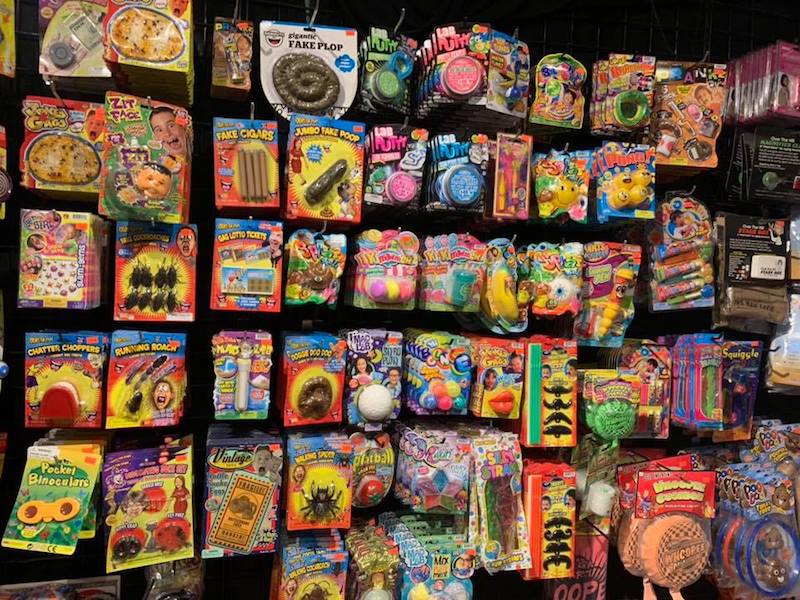 No.45: New York Costumes
Another costume shop in New York, this one, alternatively referred to as Halloween Adventure in the East Village, is often called the BEST costume shop in the world.
The two-storey shop is an entire city block long!
Warning: This is not a shop for babies, toddlers or small children unless you want to frighten them for life!
Find the best costumes in New York for:
Mardi Gras
Dress Up Birthday Parties
Themed Events
Independence Day
St Patricks Day
Valentine's Day
Purim
Christmas parties, and
Halloween too.
Enter at 104 4th Ave at 11th street and 808 Broadway at 11th street. Open 7 days.
Also visit Gothic Renaissance, New York City's most renowned Gothic Boutique, located 108 4th Ave, right next door to New York Costumes.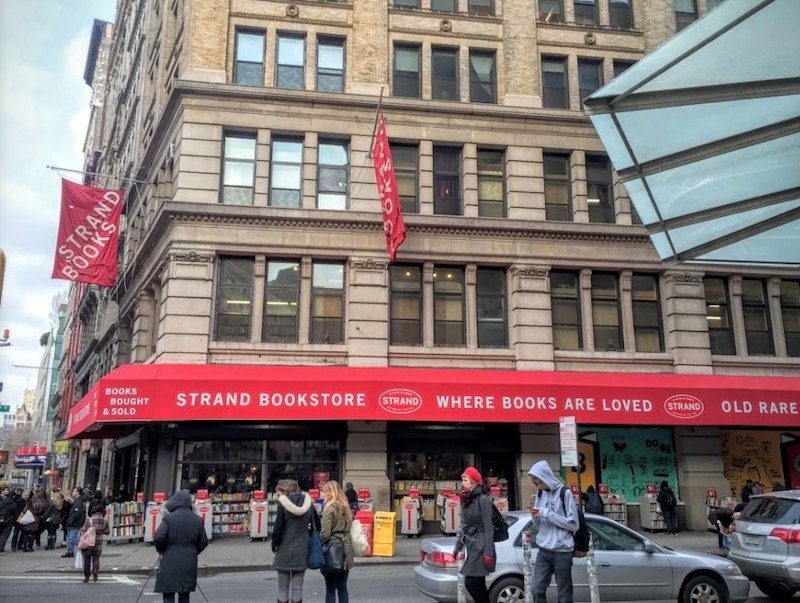 Image credit: Evie Tang
No.46: The Strand -18 miles of books
This is the best community book store in New York.
Over 90 years old, this store has:
all the best sellers
new releases
young adult books
books for kids, and
rare and collectible books.
Look for the Staff Picks.
Scour the fabulous range of New York gifts in stock including:
cards and wrap
totes and bags
New York themed stationery
fun kitchenware
NYC chocolate,
and gifts for kids themed around this iconic city
Events are a regular feature, and there's FREE storytelling and crafts for kids weekly.
Shop for all the books at 828 Broadway at 12th Street, New York, NY 10003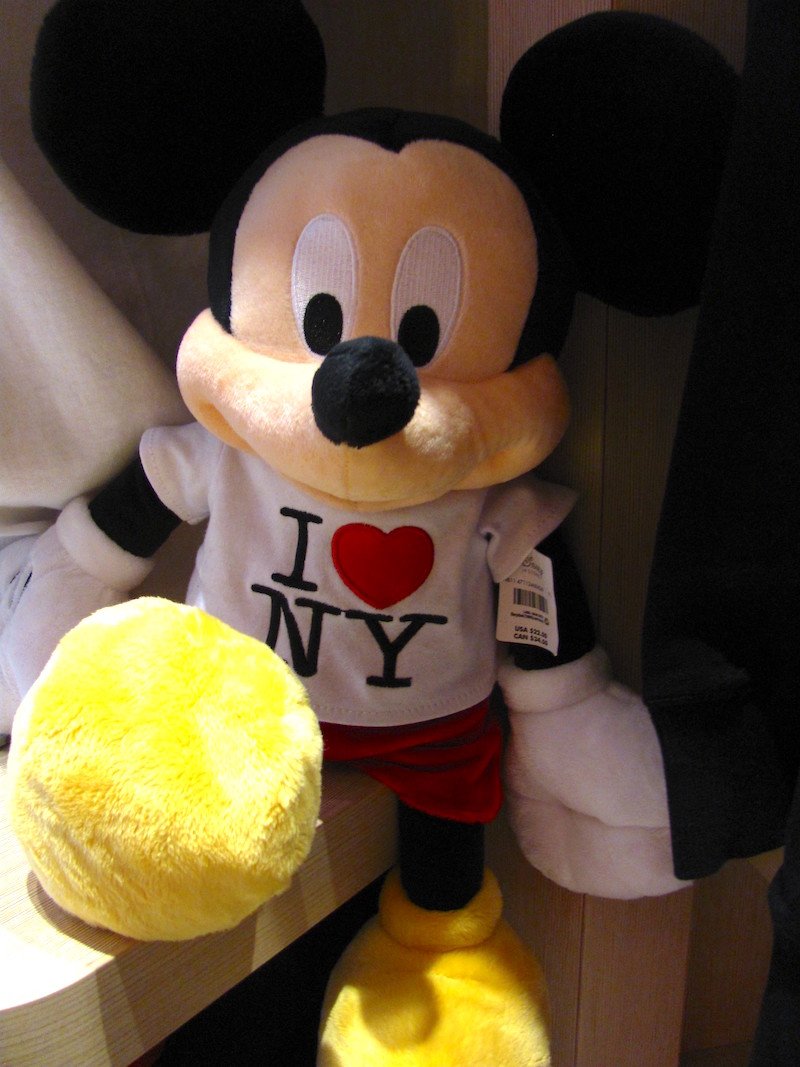 Image credit: Loren Javier via Flickr CC BY-ND 2.0
No.47: Disney Store Times Square
How could you not stop by the DISNEY Store in Times Square?
If are a Disney fan, pop this giant Disney shop on your itinerary to find:
official Disney character toys
Disney clothes
Disney collectibles
Disney theme park merchandise
Disney dress up costumes,
plus all the Mickey Mouse goods.
Disney Times Square is located at 1540 Broadway, New York.
---
RELATED: ULTIMATE List of the Best Disney Souvenirs for Disney Fans!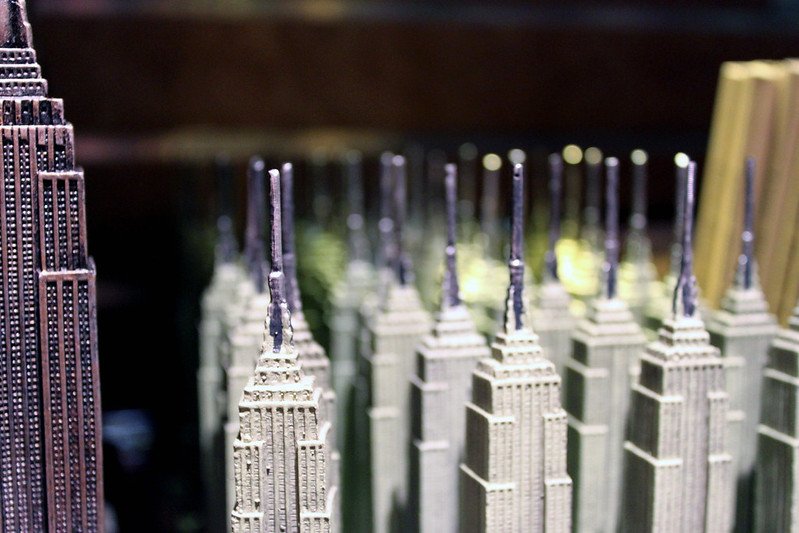 Image credit: Justiny8s via Flickr CC BY 2.0
WHERE TO GO NEW YORK SOUVENIR SHOPPING?
Here's our tips on the best New York shopping destinations including our favourite shops, and markets in New York.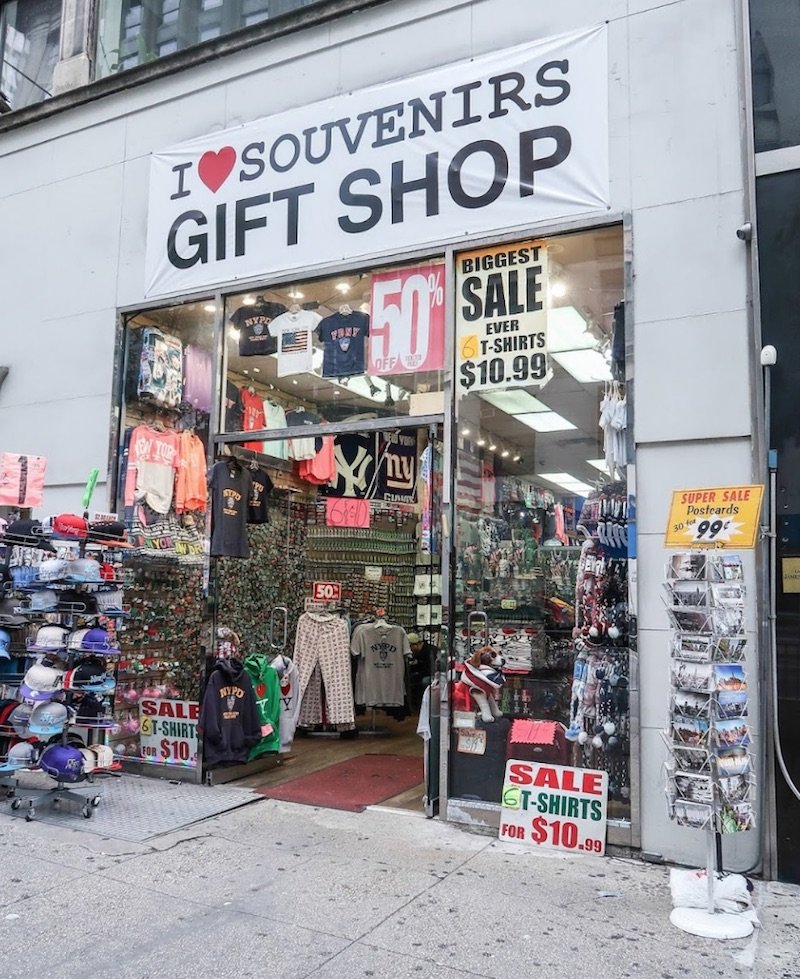 Image credit: Marco Togni
BEST NEW YORK SOUVENIR SHOPS
Wondering where to buy souvenirs in New York with a difference? Not your run of the mill trashy souvenir. Try these New York souvenir shops.
No.1: I Love Souvenirs gift shop
Saving money is the reason to visit this New York shop.
There's all of the same NY souvenirs, but at better prices than anywhere else.
It's worth a look.
Dig deep to get past the junk to find the odd treasure here and there.
Go shopping at 377 5th Ave, between 35th & 36th and between 32nd & 33rd, New York City, NY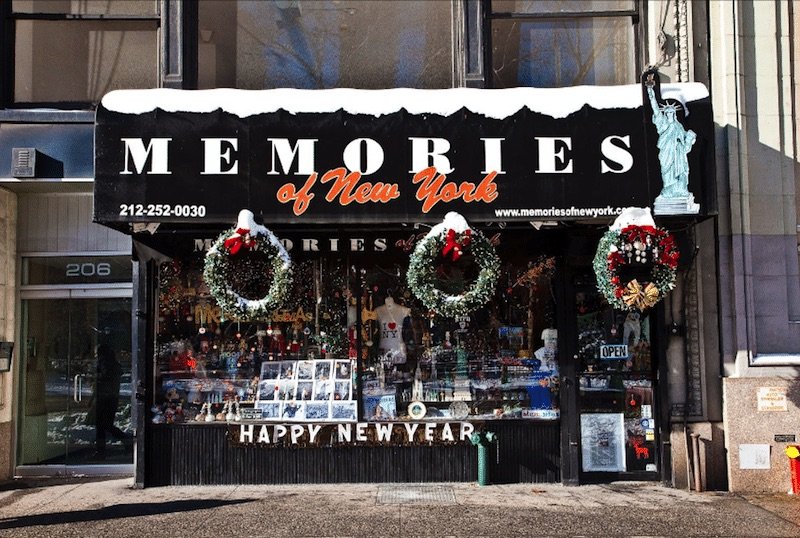 No.2: Memories of New York
Find all the officially licensed New York City souvenirs including:
I Heart New York" t-shirts
New York snow globes
wallets and backpacks
picture frames
postcards of New York
NYC coffee mugs
Statue of Liberty statues
NYC baseball hats
Christmas ornaments of New York
funny money
kitsch aprons
kitchenware
New York magnets & keychains
handbags,
plus unique and hard to find pop culture merch.
Memories of New York is located right down the street from the world-famous Flatiron Building and near Madison Square Park.
Call into the store at 206 5th Ave, New York 10010 from 9:00 a.m. to 9:00 p.m, 7 days a week.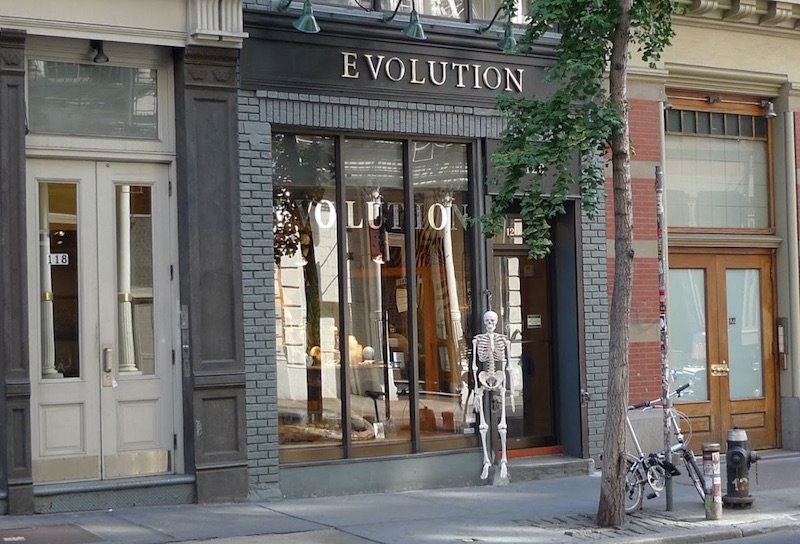 Image credit: Norbert Tai
No.3: The Evolution Store New York
This is the place to buy New York souvenirs with a difference!
The Evolution Store in New York is a museum-style shop full to the brim of science & natural history-related collectibles, gifts & furnishings.
Their signature souvenir is one of their preserved specimens in resin or clear fluid in a jar.
These are just like the ones you see in the Natural History museum.
There's:
a real Shark in a Jar
flower beetles in resin
framed insects
freeze-dried living fossils including a crocodile head, or a rattlesnake head.
Plus:
crystals and agate slices
meteorites
minerals
anatomical models, and
replica skeletons.
Look for the range of homewares including world globes, posters, prints, puzzles, models, candy and snacks.
Visit in person at 687 Broadway, New York.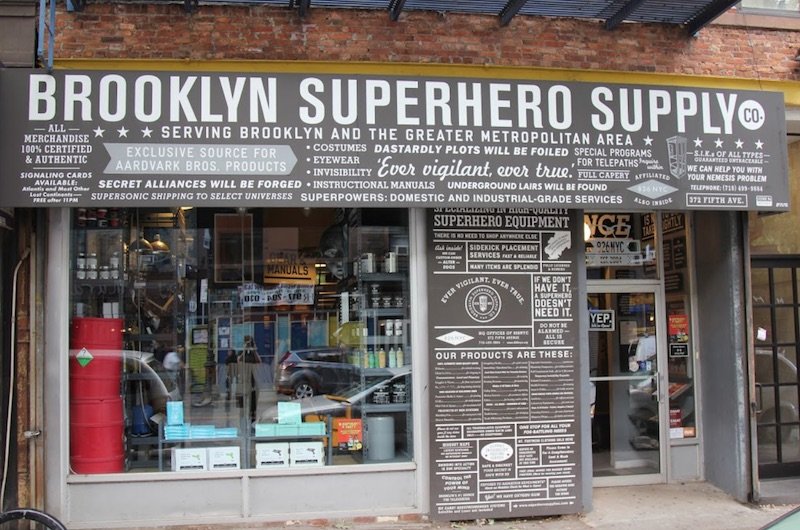 Image credit: Brooklyn Super Hero Supply Co
No.4: Brooklyn Superhero Supply Co
Stop in at the Brooklyn headquarters to pick up all the:
Superhero costumes
Superhero books
cards
t-shirts
unique maps
fun posters
fabulous gifts & toys,
AND a whole lot of SUPERPOWERS!
(Including one-quart tins of Chutzpah!)
Say hello from Tuesday to Sunday 12pm to 6pm at 372 5th ave, Brooklyn, NY 11215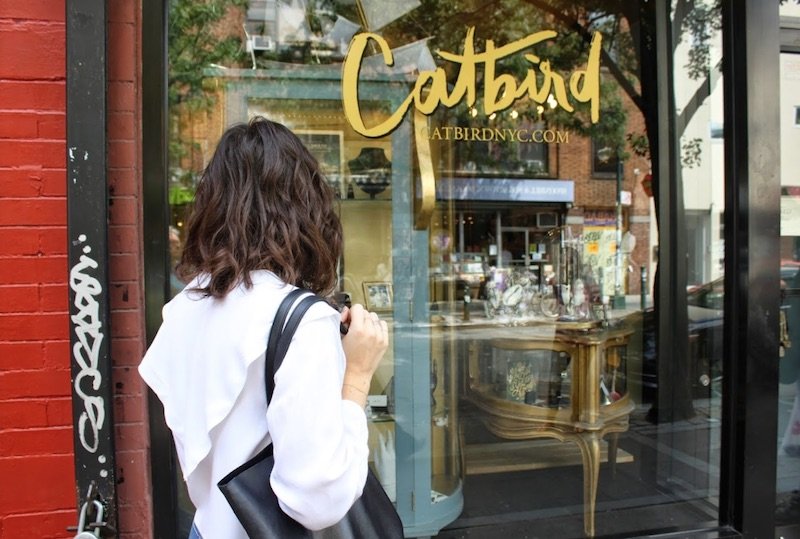 Image credit: Catbird boutique
No.5: Catbird Brooklyn
Catbird is a much-loved jewelry store selling trademark fine, personal jewelry.
They also stock a range of curated gifts and souvenirs including:
nail polish
after dinner playing cards
soy candles
incense and incense holders
illustrated cards
New York stationery
stylish kitchenware including dishes, plates and saucers.
Take a trip to the main boutique at 219 Bedford Ave, Brooklyn.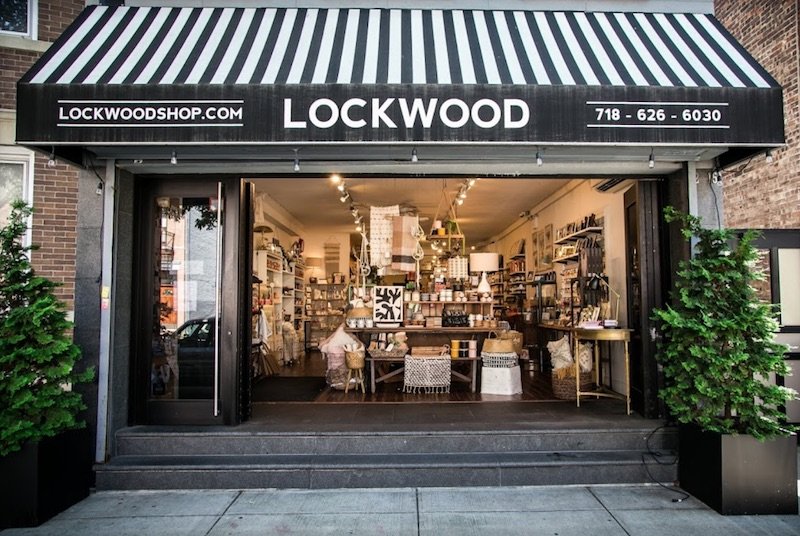 Image credit: Lockwood
No.6: Lockwood
Looking for local souvenirs with a design edge?
This is the spot for:
gorgeous handbags and tote bag
colorful pens and stationery
super cute kitchenware (the marble and wood cheeseboards are divine!)
an elegant range of beauty and wellness gifts.
Make a beeline for Lockwood at 32-15 33rd St Astoria, NY 11106, just over the bridge from Manhattan.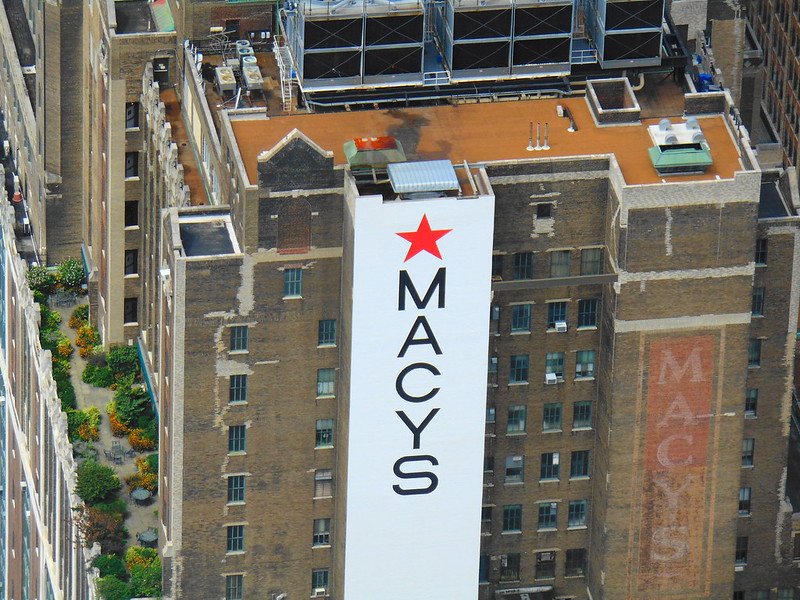 Image credit: JJBers via Flickr CC BY 2.0
BEST NEW YORK CITY DEPARTMENT STORES
These are the New York department stores to put on your New York shopping itinerary.
No.1: Macy's New York
Macys New York on Herald Square in New York is one of the biggest Department stores in America.
There's something for everyone at Macys, including:
designer clothes by Burberry, Ralph Lauren and Calvin Klein
makeup and beauty by Clinique and Estee Lauder, and
everyday wear by Levis.
Wondering what to buy in New York souvenirs for those who love designer threads?
Pick up a new handbag, a new winter coat, a new swimsuit, or a new pair of sunglasses from Macy's.
They've got it all.
Check the schedule in store for current Macy's events too, including Breakfast with Santa!
Find the entrance on 151 West 34th Street, New York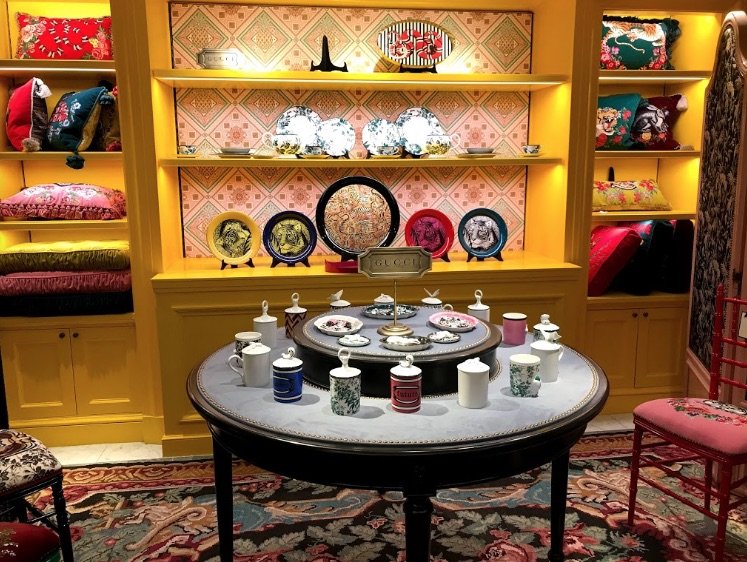 Image credit: Indah Nuria Savitri
No.2: Bergdorf Goodman
Bergdorf Goodman Department Store on Fifth Avenue in Midtown Manhattan in New York City is another luxury goods store in New York that has been around since 1899.
It's the spot to buy:
Manolo Blahnik shoes
Prada handbags
Ralph Lauren polo shirts
Carolina Herrera dresses, and all the best designer brands.
Luckily, there's regular sales so even the most conservative shopper can find a 'bargain' every now and then.
Take a peek at the Bergdorf Goodman 5th Avenue store at 754 5th Ave, New York.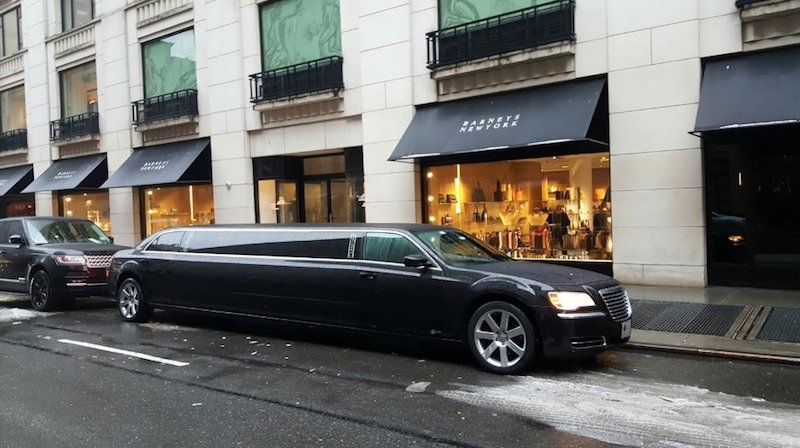 Image credit: John Eichenberg
No.3: Barneys New York
Barneys New York is a speciality retailer in the luxe market.
Find elegant clothing and ready-to-wear men's and women's apparel from the world's top designers plus all the best accessories.
Shop for:
shoes
jewelry
cosmetics
fragrances, and
gifts for the home too.
Visit at Christmas in New York to see the original holiday themed decor, and celebrated window displays.
Find Barney's Madison Avenue at 660 Madison Avenue, New York.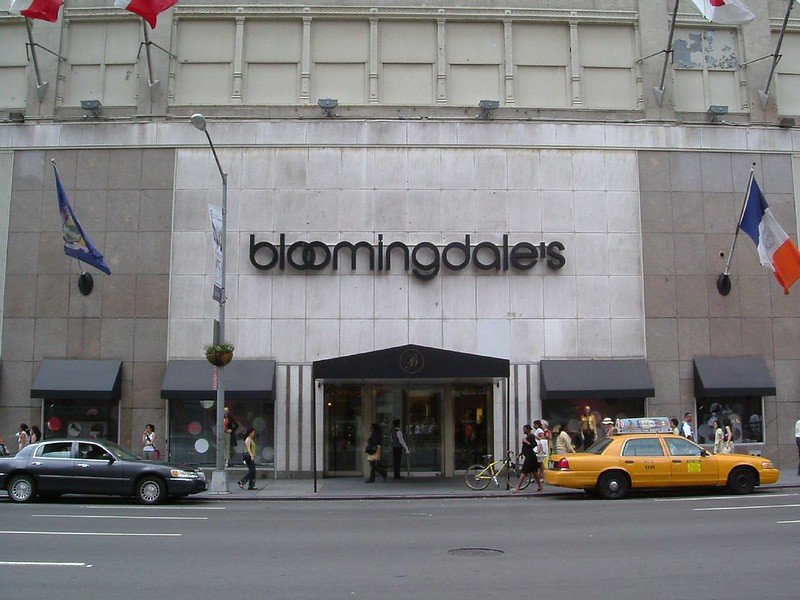 Image credit: Rob Young via Flickr CC BY 2.0
No.4: Bloomingdales SoHo
Plan for at least two to three hours of browsing at Bloomingdale's in SoHo.
This store is home to distinctive one-of-a-kind products, many of which you won't find anywhere else.
The Bloomingdale's motto of creativity, quality and uniqueness guides the store buyers in making sure all their gifts and souvenirs will be cherished for years to come.
Bloomingdale's SoHo is at 504 Broadway, New York.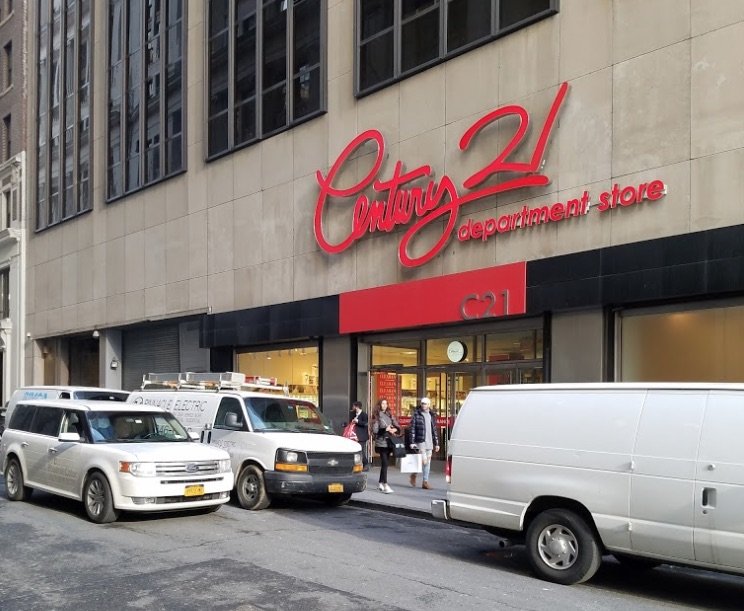 Image credit: Dongin C
No.5: Century 21 Downtown Manhattan store
This downtown Manhattan icon has been a NYC retail icon since 1961. Century 21 Department Store is a seven-storey shop for designer brands at budget prices.
There's:
designer clothing
ready to wear clothing
handbags, totes, backpacks, and clutches,
hardside and softside luggage
shoes, sunglasses and umbrellas.
Plus kids wear, home decor, tech gadgets AND a toy shop!
Visit the original store (rebuilt after 9/11) at 22 Cortlandt Street, New York NY 10007.

Image credit: Ajay Suresh via Flickr CC BY 2.0
No.6: Saks Fifth Avenue
Saks Fifth Avenue main flagship store is located on Fifth Avenue in Midtown Manhattan, New York City.
Be sure to check out the elegant building, home of clothing and goods for "fashionable, gracious living" since 1924.
You may not have the cash to buy the Hooded Sable Fur Coat (at over $100,000 USD), but there's nothing stopping you from enjoying a browse through their collection of beautiful clothing and home decor.
Don't miss their Christmas Holiday tabletop collections, gourmet food, and Christmas ornaments.
Pop on your shopping shoes and head to 611 Fifth Avenue, New York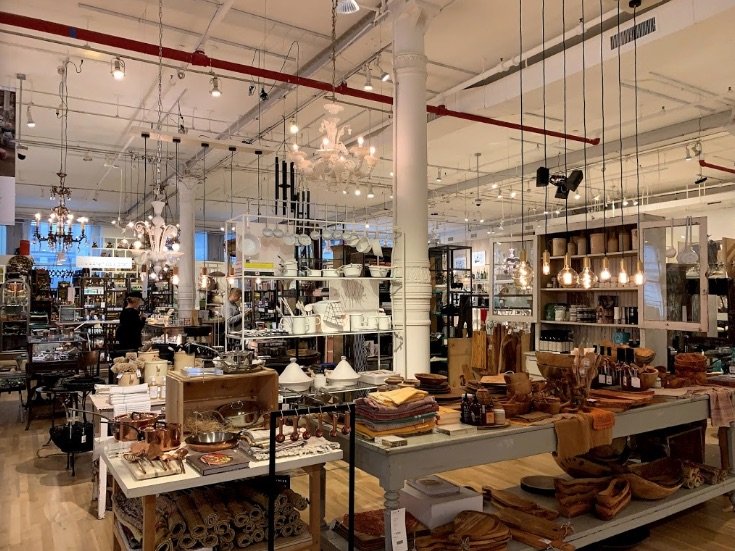 Image credit: Jason McCann
No.7: ABC Carpet & Home
It's strange to believe a shop called ABC carpet and home could be a treasure trove for New York souvenir hunting.
There's six floors, full of beautiful New York inspired:
bedding
glassware
towels
bathroom accessories
cushions
fabulous kitchenware
makeup and skincare
plush toys
books
puzzles,
and a range of HANDMADE goods in New York.
ABC Carpet and Home is at 888 Broadway, New York.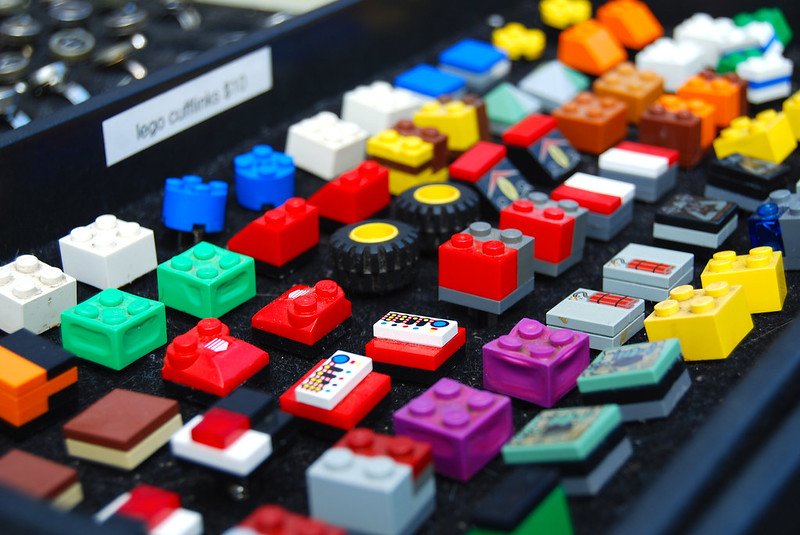 Image credit: Nick Amoscato via Flickr CC BY-ND 2.0
ART AND CRAFT SHOPS IN NEW YORK CITY
Check out the Renegade Craft Fair.
COMING SOON….
Our comprehensive guide on where to shop in NYC for fabric and craft supplies.

Looking for MORE Super Fun Things to Do in NEW YORK CITY with Kids?
Click the blue links below for more New York ideas.