Our SUPER DOOPER fun foods to try in Hong Kong with the kids!
1. Cake. Did we say cake?

Hong Kong cake shops are something else and kids will be drawn to the window like a bear sniffs out the honey. And when the cakes are THIS cute, who can blame them? I mean, haven't you ever wanted to eat a Miffy cake? C'mon.

But if you are not into character cakes and just want something sweet to nibble with your mid-morning coffee, there's plenty of choice. LOTS of sponge cake variations. (That's a speciality – SO soft. They are the definition of 'melt in your mouth').  Cheese cakes and fruit flans.  

But we'd suggest trying an Egg Tart.  That's one of Hong Kong's most popular sweet treat. Made using a cookie dough like crust, it's filled with egg custard and baked. (The best ones are at the Tai Cheong Bakery. Head to Central MTR and take Exit D2. Take the elevator up to the Mid-Levels. You'll see an "exit" for Lyndhurst Terrace. Tai Cheung Bakery will be situated on the right when you go down the stairs).

But it's my bet the kids will pick a cake with a character face if you let them!


2.  Mini Egg Puffs

Keep an eye out for egg puffs. This crunchy outside, soft inside treat is made from sweetened egg batter that is cooked inside a mould to make puffs. Try one in Strawberry, Chocolate and if you are lucky, you might even find coconut too.


3. Mango Pudding

Still on the sweet theme (yes, Roam the Gnome would agree that Jack, Ned and I all have a sweet tooth), Mango Pudding can be found on just about every restaurant menu. A combination of agar, evaporated milk, sugar, and fresh mango, it is eaten cold. I love that because it's fruit, you can kid yourself that it is healthy!


4. Dumplings and Dim Sum

You can't visit Hong Kong without tasting freshly made dumplings and dim sum. I can honestly say that the dumplings and dim sum we ate on our last trip was the BEST I've ever had. Super dooper fresh, and so full of flavour that just burst into my mouth. The kids LOVED it. You need to follow our footsteps and eat dumplings at this One-Michelin-starred restaurant too. Read our review and get details of where to go here.


5.  Wonton Noodles

We love to eat noodle-y type dishes. They are a cheap meal for budget family travellers, and a favourite of locals (and kids) everywhere. We look for a busy noodle restaurant and head right on in.(Busy=good. The kids fit right in when there's a bit of noise and activity. We rarely go anywhere else.)  In Hong Kong, you'll often find Wonton Noodles on the menu. It's a delicious stock filled with noodles with a bunch of Chinese dumpling 'wontons' thrown in for good measure. Steer clear if you don't eat fish. Most of the time these wontons are 2/3 shrimp with about 1/3 pork.


6. Curry Fish Balls

Street food doesn't get any more Hong Kong -style than this- this is a staple for locals everywhere. Curry fish balls are just a little spicy but smell amazing. You'll find them served on bamboo skewers and drizzled with curry sauce. Tempt the kids with the aroma!



7. Congee

A hot silky and smooth rice porridge, for want of a better description, most often eaten at breakfast time, but served throughout the day in many restaurants. The texture reminds me a little of baby food rice cereal, and also of that yummy Japanese home-style food where you pour miso soup over cooked rice. But there's usually stuff to chew in Hong Kong congee – different types of meat, vegetables, shallots, sliced green onions, cabbage – even poached egg. My mouth waters just thinking about eating it again!


8. Pineapple Bread
Oh, we're back to the sweet stuff again!  Visit any bakery and you'll see Pineapple Bread. Strangely enough, there's not an ounce of pineapple in this bread. They are called this simply because the top of the bread roll looks kind of like a pineapple. (Only in Asia!) They are very sweet, being made from sugar, lard, eggs, and flour.  Best eaten hot. If you are lucky, your baker might pop a sliver of butter inside too. Mmmm, melty deliciousness.



9. Hello Kitty Cafe

The title of this post says 'Fun Foods to eat in Hong Kong with Kids' so here's two cafes you must not miss. Hello Kitty cafes have three branches in Hong Kong. We went to the Le Petit one in Sogo Department Store. Read all about it here and find directions to all three too.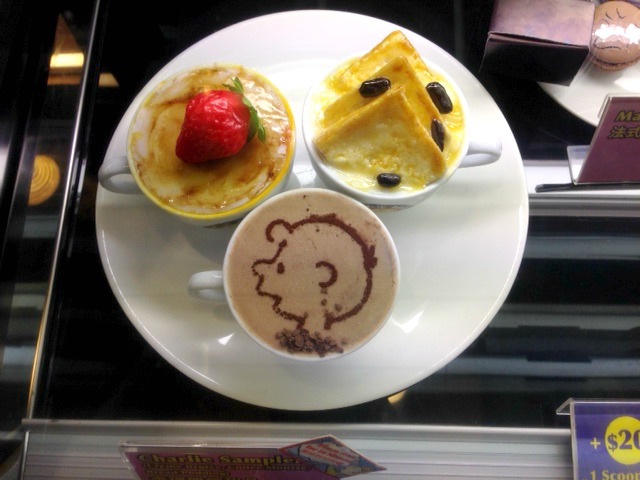 10.  Charlie Brown Cafe

Calling all Snoopy lovers. DO NOT MISS THIS. If you have a love of Snoopy, Charlie Brown and the Gang, and want to share that love with your kids, head here to the Charlie Brown Cafe without stopping. It's SUPER cute – the whole cafe is decorated in theme, the food is in theme, and there's one-of-a-kind souvenirs. Find all the details here.