INSIDE: Roam the Gnome's Insider's Guide to the best Leather Shops in Rome.
One significant joy of travel is shopping in new places, and shopping in Rome is no exception!
It's such a thrill to find:
that unique piece you can't find at home
that super bargain thanks to an awesome exchange rate
a handmade trinket to remind you of a twinkly bright moment in life
a souvenir to showcase the culture of the place
a piece of handcrafted jewellery with a special significance to you, or
an art piece you can't live without.
But the best thing to buy in Rome is leather.
If you can find it.
It's not easy.
Which is why we point you to our insider's shopping guide below.
It will guide you to the best leather shops in Rome to buy Italian leather handbags and all the leather goods and souvenirs too!
Disclosure: This article contains affiliate links. If you make a purchase after clicking on one of these links, we may receive a small commission at NO extra cost to you.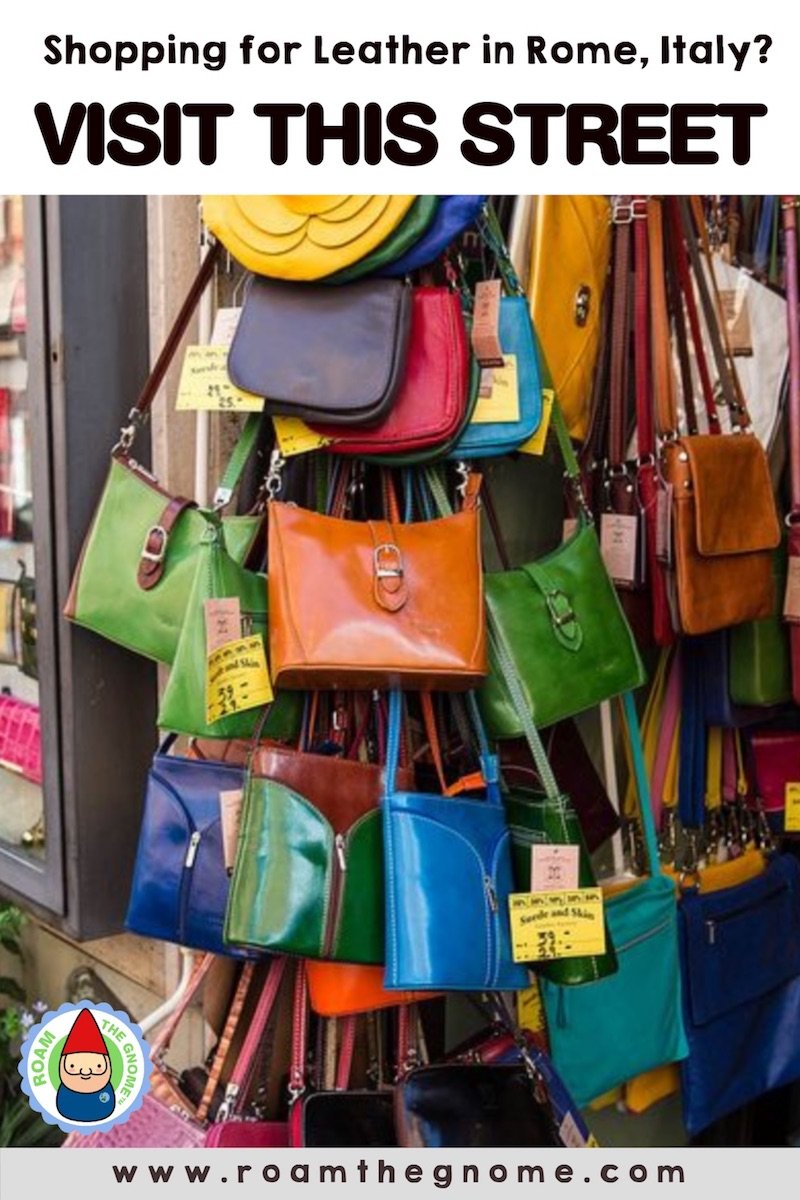 The Street of the Best Leather Shops in Rome Italy
Buttery soft leather is my kind of bliss, so you'll always find me on the lookout for one – or two, or three – new Italian Leather Handbags. (One will never do.)
OR cosy soft leather shoes.
One or the other, or both, and I'm a happy traveller.
If you are like me, and want to take home an iconic leather souvenir from Italy, follow these steps to find the ultimate street to buy Italian Leather Handbags in Rome.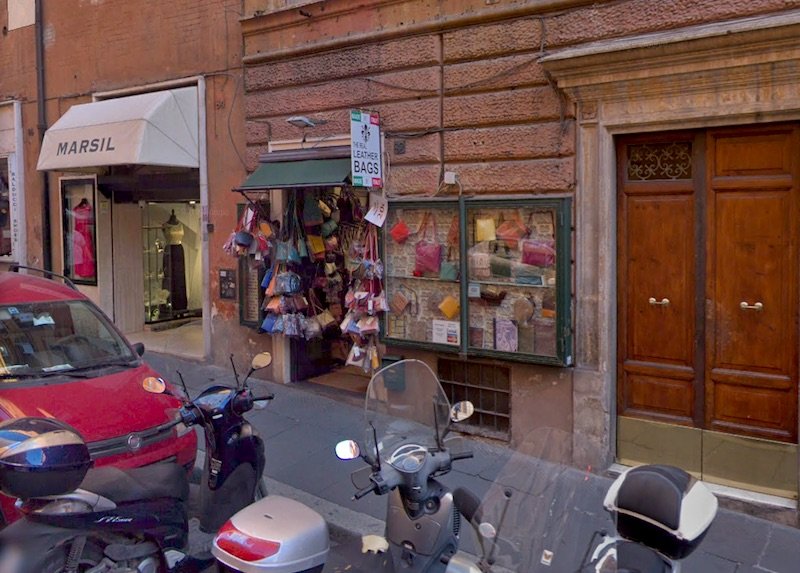 Where to find the best Italian Leather Shopping in Rome!
I looked high and low to find where to buy leather in Rome, without much luck, and with my patience running low.
I don't know about you, but TRYING to shop with my kids in tow on a family vacation can be almost impossible, especially if I'm on a mission to find the best leather in Rome.
My boys can tolerate shopping for exactly 7-minutes-and-22-seconds before the whining, poking one another, stirring, teasing, and wrestling bouts start.
(Conversely, if it's their kind of shopping – kids toys or gadgets – their attention span is HOURS long.)
So imagine my delight to find THIS street FULL of leather shops in Rome.
---
RELATED: Ultimate Guide of THINGS TO DO IN ROME WITH KIDS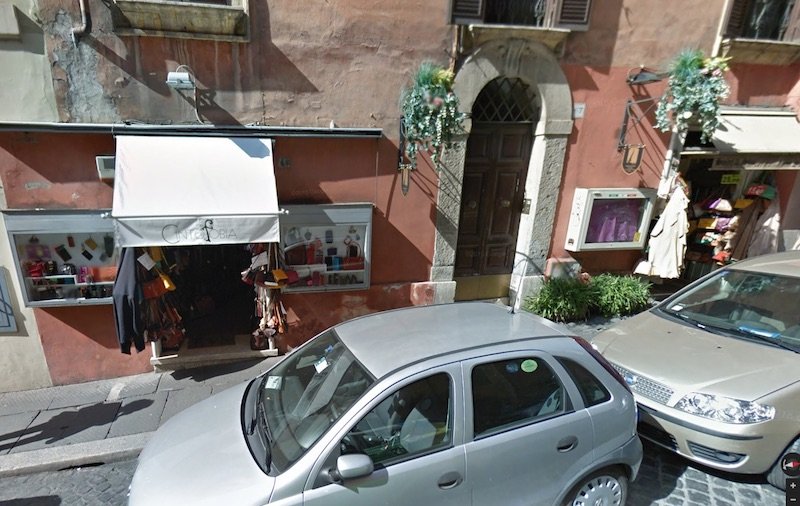 Where to buy Leather in Rome? Guide to Leather Shops in Rome Italy!
Via Francesco Crispi.
Via Francesco Crispi runs from the intersection of the main street, Via del Tritone, and Via dei Due Macelli.
The street is on the left side of Via del Tritone if the Trevi Fountain is on the right.
The best thing about this street is that the leather handbags shops are all in a row, one after the other, with a couple more stores on the opposite side of the road selling leather bags and shoes too.
If you have the kids in tow, you can easily dart in and out to make quick purchases without having to drag them through an enormous shopping mall, or past other enticing shopfronts.
You'll pass a few gelato shops on the way, so you can always try bribing them for a few extra minutes too!
BUY NOW ON AMAZON: Take a look at these hand painted leather handbags by Anuschka!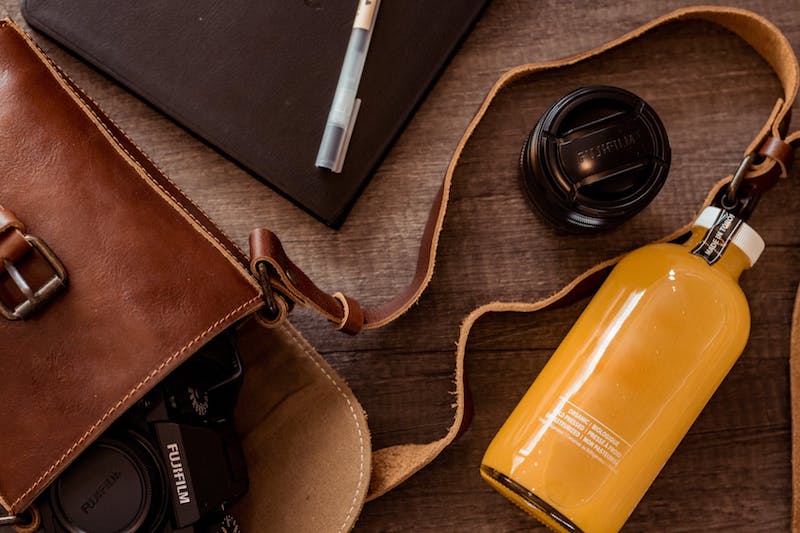 Image credit: Mister Mister via Pexels CC BY-1.0
Shopping Rome for Italian Leather Bags
THE best street for buying Italian Leather Purses and Italian Leather Handbags in Rome? This one.
Via Francesco Crispi is a slightly inclined street with four or five shops in a neat row selling all kinds of Italian leather bag styles including:
Italian leather bags
Italian purses
Italian leather gloves
travel goods
coin purses
card wallets
overnight bags
duffel bags
BUY NOW ON AMAZON: Adorable Floto Women's Saddle Bag Handbag in Yellow Italian Calfskin Leather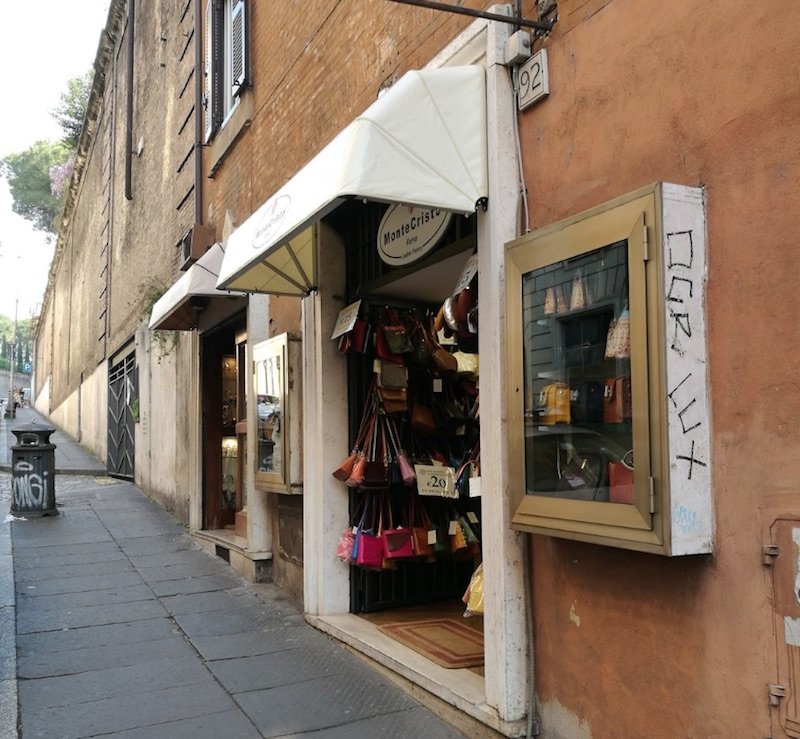 Image credit: HolaMT
The Best Rome souvenirs!
In Rome leather bags are the perfect souvenir or gift purchase when you have kids in tow!
Especially if you've been wondering what to buy in Rome for family and friends and don't have time to browse for long.
A leather handbag, a leather tote, or a leather satchel is THE perfect, pretty, chic and usable gift for mums, mother-in-laws, grandmas, aunties, sisters, cousins, and teenagers.
So if you head to this street, you can buy all your gifts in one go. (#not sponsored, but should be!)
BUY NOW ON AMAZON: Vintage Italian Leather Crossbody Handbag by Banuce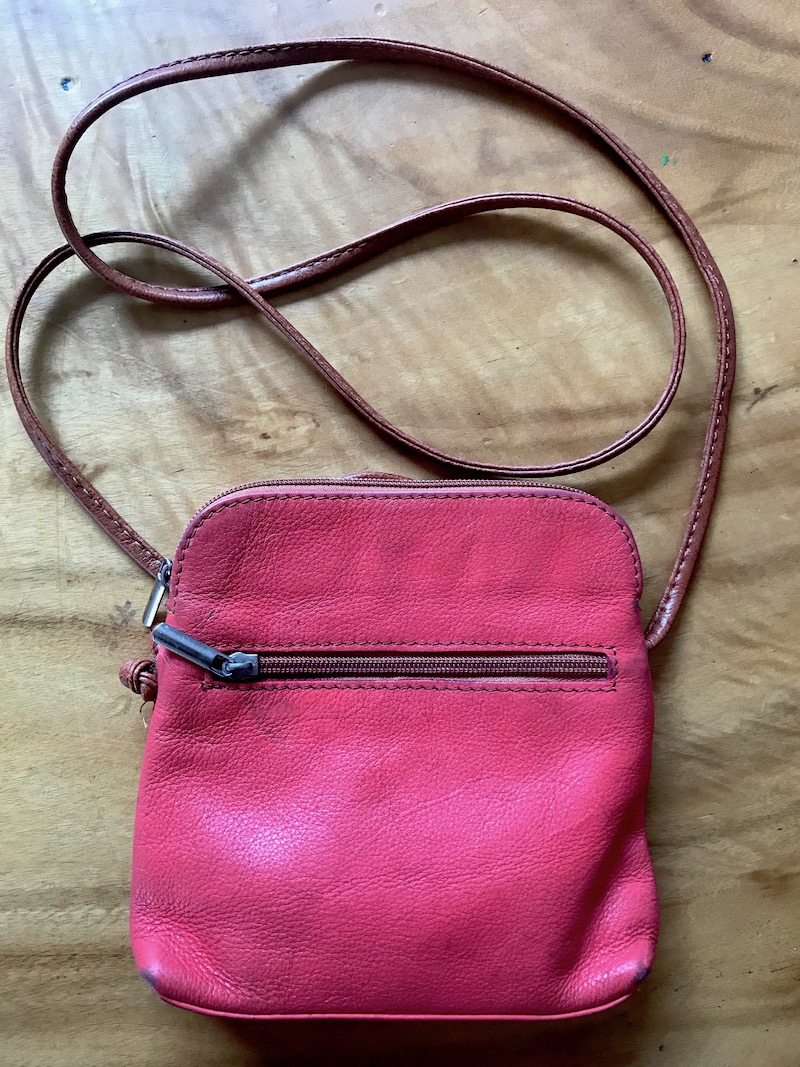 Best Italian Leather Handbags in Rome?
Most importantly, all these shops sell my go-to Italian leather handbags of choice.
These are the best shoulder bags that I've seen in Rome.
These cute shoulder-bag sized Italian leather handbags come in all the rainbow colours for just 15 EURO each!
(approximately $23 Australian; $17.50 US, depending on the exchange rate).
Confession time: I may have bought nine of these Rome handbags, in all the natural colors!
Small Italian Leather Tote Bag
These mini shoulder bags are the perfect size to fit:
your purse
your phone
your keys, AND
a toy car or two for a busy little toddler
Mini leather totes are also perfect for minimalists like me.
I despise lugging the kitchen sink with me every time I head out.
(2020 Edit: the bags I bought from here in 2015 are still going strong, and every female in my family who received one still raves about their best gift ever! )
BUY SIMILAR ON AMAZON: Primo Sacchi Italian Leather Small Cross Body or Shoulder Bag handbag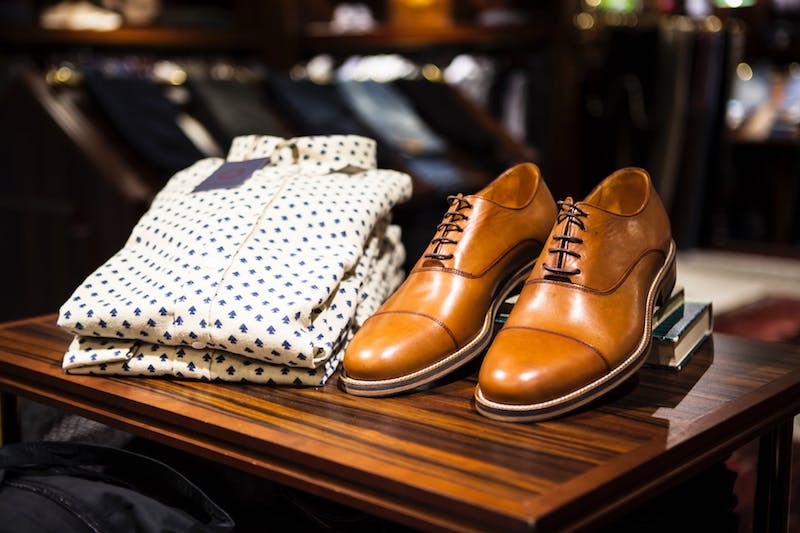 Image credit: Terje Sollie via Pexels CC-BY 1.0
Shoe Shopping in Rome
Wondering where to buy leather shoes in Rome?
You can also find a few Rome leather stores along this road selling:
exquisite handmade leather shoes
leather belts
genuine leather goods such as attache cases (briefcases)
mens wallets
Italian Clothes Shopping & Italian Jewelry
Plus, there's also shops along Via Francesco Crispi selling:
hand-crafted fine Italian jewellery
beautifully designed men's clothing and shirts
children's clothing boutiques
antiques
rare stamps
travel luggage
souvenirs, postcards, keyrings
t-shirts and gadgets.
There's a number of cafes, and an organic food shop too.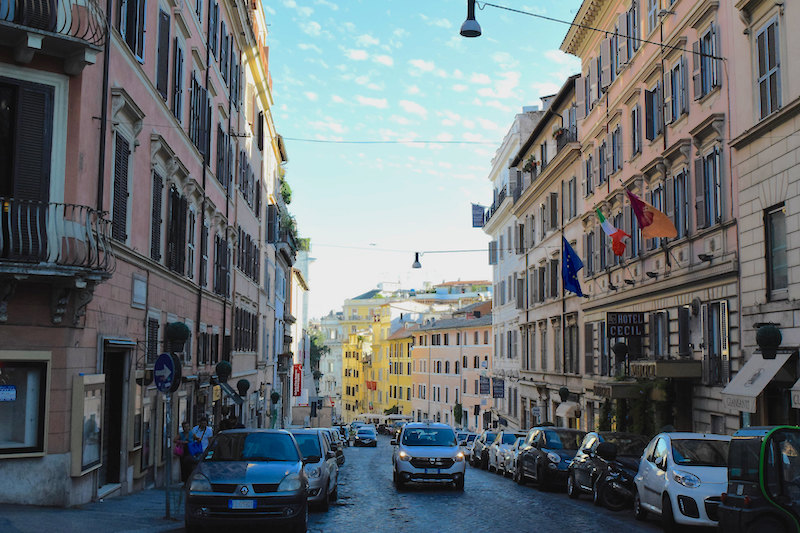 Image credit: Dylan Myers Flickr
Where to buy Italian Leather Handbags in Rome
So, if you are heading to Europe on a family vacation or couples retreat and want to know where to buy leather goods in Rome, put this street,Via Francesco Crispi, on your itinerary. Stat.
Heading straight there will save you loads of time and effort in your search for Italian leather handbags, and the leather here is lovely.
(You can shop for leather all morning and then join a Skip-the-Line Vatican, Sistine Chapel, and St Peter's Tour afterwards. That's a great day out in Rome!)
I'd rate the Roma leather shops along Via Francesco Crispi as some of our BEST SHOPPING IN ROME in general, let alone the best leather shops in Rome.
Via Francesco Crispi is definitely one of the best shopping streets in Rome for cheap leather handbags and much-coveted souvenirs.
Don't miss it.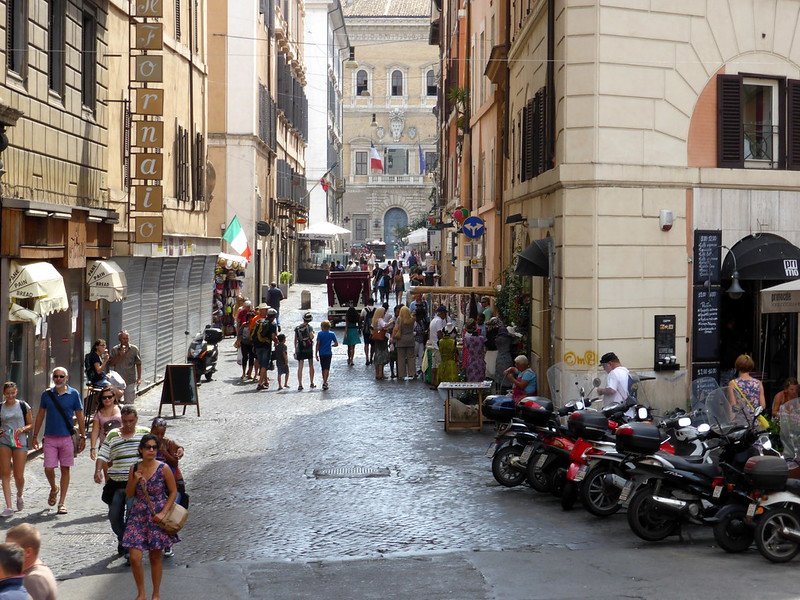 Image credit: Sean MacEntee via Flickr CC BY-2.0
Looking for a Rome Leather Market?
I hunted and window shopped all over town for Italian leather bags, including at the market at Porta Portese (thinking it might be THE "Rome Leather Market" I was hoping to find) with no luck.
I am SO grateful for this accidental find on our meanderings.
I didn't find any good quality leather bags in Rome anywhere else!
On a side note, I was very surprised that Italian leather goods were not as abundant or as visible as I'd expected but Via Francesco Crispi street saved the day.
See below for the Inside Scoop on how to get there, opening hours etc.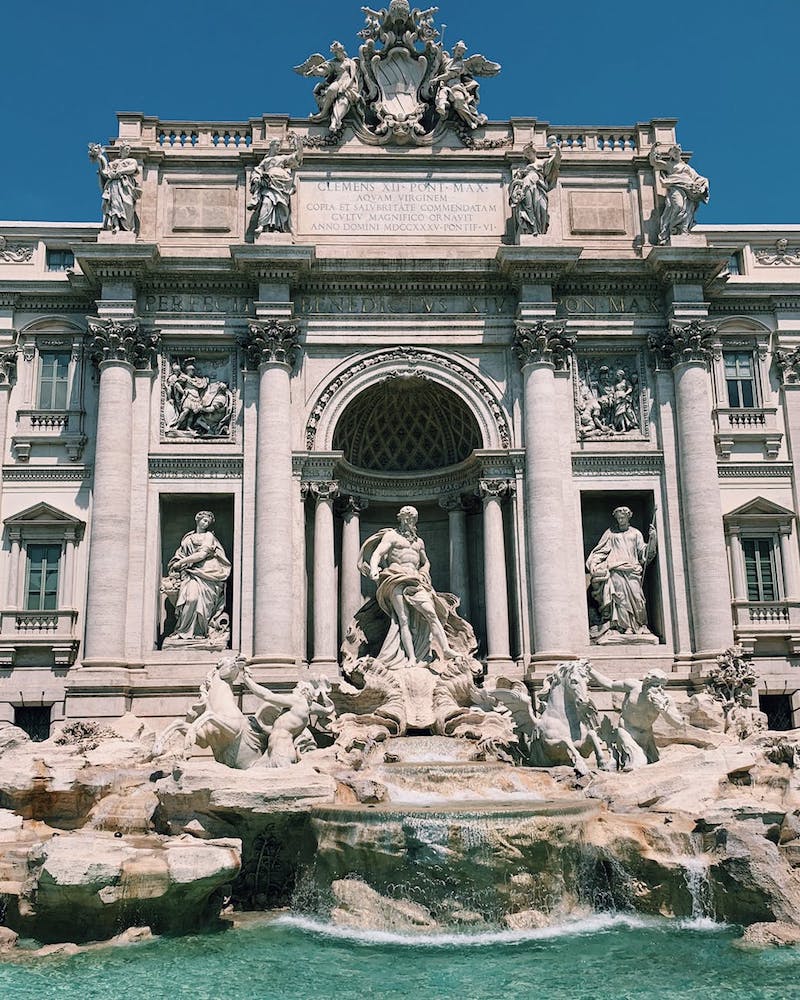 Image credit: Michael Guigliano via Pexels CC BY-1.0
THE INSIDE SCOOP: The Most Affordable Shopping in Rome for Leather Souvenirs
Correct at time of publication on Roam the Gnome. Please check with venue for updates. We apologise in advance if there have been any changes we are unaware of. All prices in AUD dollars, unless otherwise stated
Address: Via Francesco Crispi Rome, 00187 RM, Italy
Opening Hours – Via Francesco Crispi Shopping Street in Rome: 10am, to close of business. (Varies by shop but no earlier than 5pm)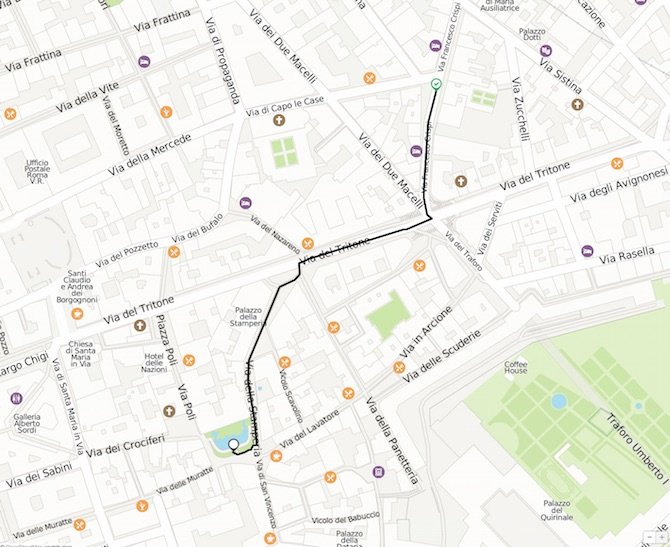 How to get to Via Francesco Crispi
Directions to the Best Shopping Street in Rome:
On Foot: 10 minutes walk from the Trevi Fountain (see Walking Map below.)
By Metro: Metro Line A (Barberini Stop) from Termini Railway Central Station
By Bus: Catch the bus to Via Del Tritone, Trevi Fountain stop and walk west.
By Taxi or Uber: Via Francesco Crispi is easily accessible by taxi or uber.
Google Map to find the Best Leather Shops in Rome
Toadstool Rating – Where to buy Leather Shoes & Handbags in Rome
We rate this as the number one shopping street to visit in Rome.

HOT TIP: VILLA BORGHESE GARDENS IN ROME
Make use of THIS excellent bribe for extra shopping time
Make a deal with the kids, or your travelling partner.
If they give you 30 minutes to do your Italian handmade leather bags shopping in relative peace, you'll take them up the hill to visit the awesome park Villa Borghese.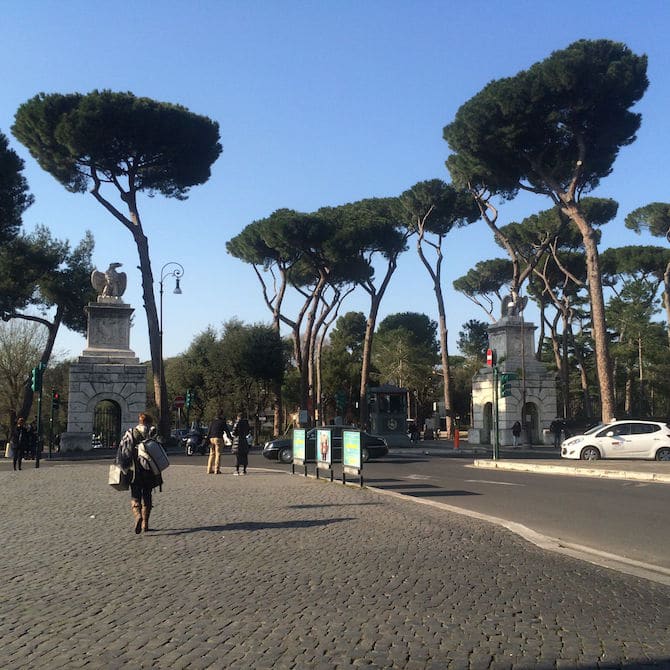 Villa Borghese Park in Rome
Villa Borghese is the third largest park in Rome with landscaped gardens, museums and fun family attractions.
It's just a 10 minute walk, continuing on straight up the hill, when you finish your leather shopping.
You can't miss it when you know where to go, but it's one of Rome's undiscovered secrets for anyone enjoying a Rome family vacation, or any kind of vacation in Rome in fact.
We were so happy to accidentally stumble upon it as we walked!
Rome's Villa Borghese is an unspoiled treasure for those wanting to avoid big crowds and experience more of the REAL Rome.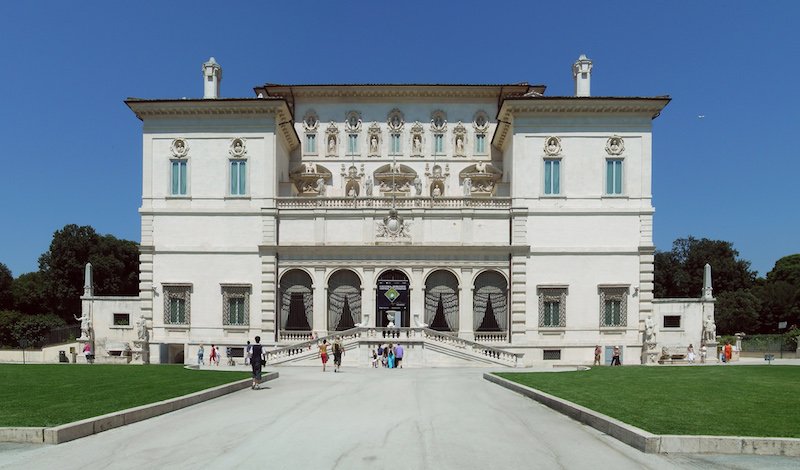 Image credit: By I, Alejo2083, CC BY-SA 3.0, Link
The Best Things to Do at Villa Borghese
There's so many things to do at Villa Borghese Gardens.
To get there from the Leather Shopping street in Rome, just follow Via Francesco Crispi up the hill and veer right onto Via Di Porta Pinciana (you can't go wrong… just keep walking).
Go under the archway and out the other side, you'll see the entrance to the park.
(As in picture above, right side of the entrance gates).
Rome Borghese Galleria
The first thing to do is head to the Rome Borghese Gallery. An exhibition hall full of masterpieces of art, including a collection of paintings by Caravaggio.
There's also sculptures and paintings by Bernini, Canova, Titian and Raphael.
Buy your Skip the Line tickets through Get Your Guide here.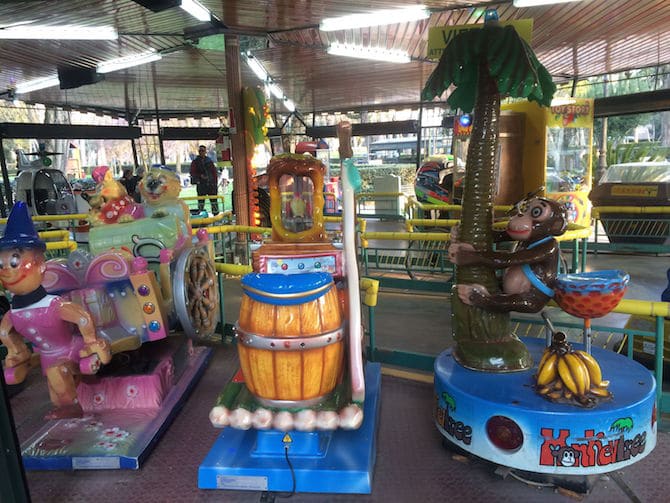 Things to do at Villa Borghese with Kids
For the kids, there's:
a playground
pony rides
helium balloons
a children's train
paths to explore and grass to roll on
a cinema
an outdoor undercover games parlour (yes… those old fashioned ones from our childhood!)
The best thing to do at Villa Borghese Gardens is something that is so much fun for young and old, I don't want to spoil the surprise.
You'll have to visit the Borghese Gardens in Rome yourselves to find out.
But if you really can't wait that long, check out our Top 10 Things to Do in Villa Borghese Gardens story for a sneak peek!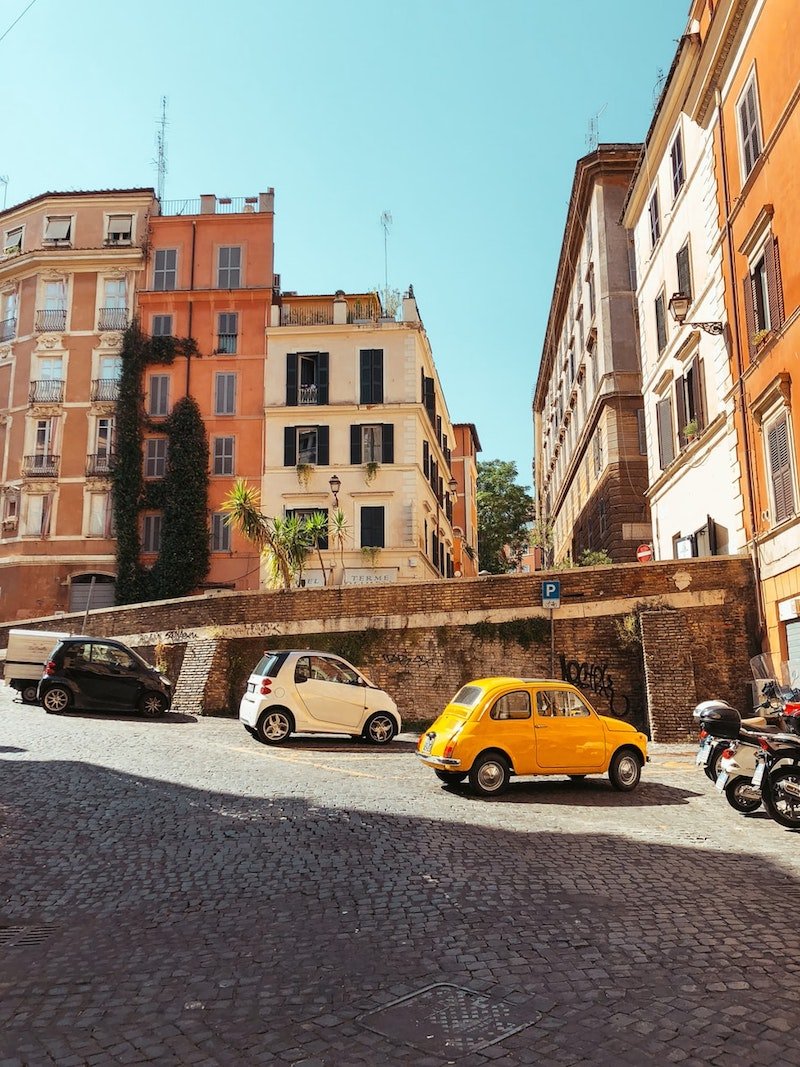 Image credit: Arthur Yeti via Unsplash CC BY-1.0
Looking for MORE SUPER DOOPER FUN places to shop in Rome?
Click the links in blue below for more Rome shopping ideas.