INSIDE: Five reasons you should book the Magic Castle Hotel Los Angeles when you visit America. Updated 2019.
Imagine… a never-ending snack menu of all your favourite chocolate treats, brought to your room at any time of the day or night? For FREE!
Imagine…a real-life magician at breakfast?
Imagine… a popsicle hotline?
All your CHILDHOOD DREAMS COME TRUE at our favourite hotel for kids in America.
There's no place on earth with the charisma, the personality, and the service like it.
Disclosure: This article may contain affiliate links. If you book a product or service after clicking on one of these links, we may receive a small commission at NO extra cost to you.

The Magic Castle Hotel Hollywood
A block behind the fabulous and famous Hollywood Walk of Fame is one of LA's best kept secrets, the Magic Castle Hotel Los Angeles.
A multi-storey apartment-style complex in painted bright in sunny yellow hues, it's a haven away from the outside world.
From the moment you walk through the doors at these serviced apartments, there are eager-to-please staff members waiting to bring a smile to your face in one of million ways.
There's not just one highlight of a hotel stay here – there's five (and more!)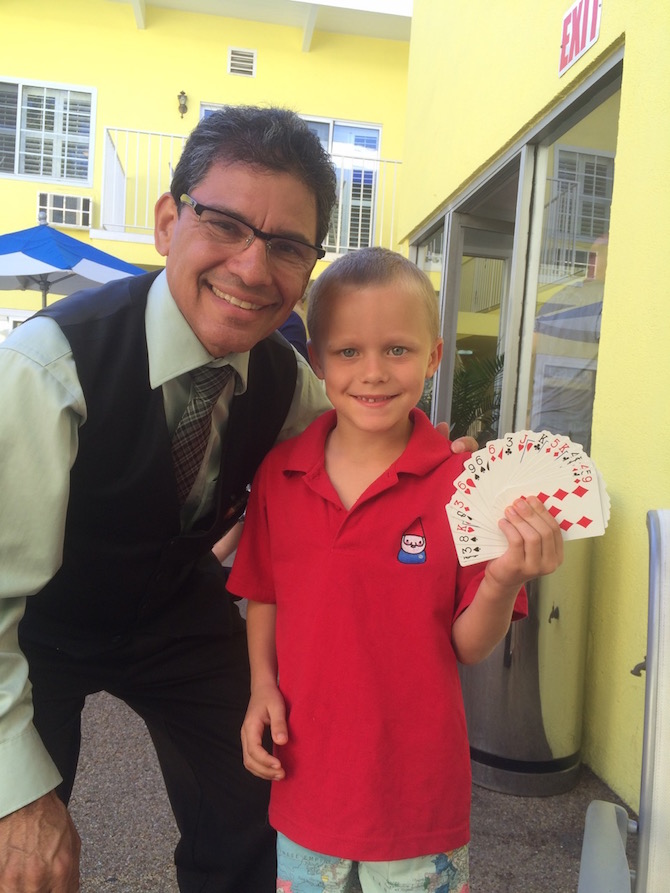 No. 1: Do Tricks with a Professional Magician at the Hollywood Magic Castle Hotel!
An intimate one-on-one interaction with a REAL LIFE PROFESSIONAL MAGICIAN was the first surprise.
On loan from the Magic Castle Academy of the Magical Arts high on the hill behind the hotel, incredible Magicians visit Monday, Wednesday, and Friday mornings from 9am to 10am.
The Magic Castle Academy of Magical Arts is the private clubhouse of certified magicians in the states, and allows entrance only to members and their guests, championing a strict dress code of suit-and-tie and evening wear also.
Imagine the boys' faces when they met a real-life illusionist, who joked with them, showed them a few tricky card tricks, and pulled a playing card out from behind their ears.
We have NEVER had breakfast with a professional magician before – it was a highlight.
Harry Potter, eat your heart out.
(Read the story of how the Magic Castle Academy came to be in this overview of the history of the Magic Castle Academy of Magical Arts.)

Magic Castle Club & Restaurant
PS: Adult Guests of the Magic Castle LA Hotel over 21 who book directly with the hotel or through a travel agent can visit the Magic Castle Club for dinner on a VIP guest pass, another of the privileges of staying at the Magic Castle Hotel in Hollywood.
Magic Castle Dress Code: Take note of the strict dress code for the Castle Club – jacket and tie for men. Cocktail or evening attire for women. Reservations required, subject to availability. (Email the hotel to enquire before booking your reservation to find out).
Magic Castle restaurant is also open for Saturday and Sunday Brunch. This is for families; the magic is more geared for kids. The dress code is country club attire. Please contact Magic Castle Hotel for all the details.

No. 2: FREE Magic Castle Hotel Breakfast every morning
The Deluxe Continental Breakfast we spoke of.
It's FREE.
Dig into a delicious array of locally baked pastries from one of the best bakeries in all of Los Angeles, Susina Bakery.
The Magic Castle Hotel Los Angeles breakfast offers toast, banana and blueberry muffins, chocolate chip scones, buttery croissants, cereal, fruit, oatmeal, and yoghurt too.
Plus fresh coffee, tea and hot chocolate.
Take breakfast to your table in the courtyard with views of the swimming pool.
What a yummy start to the day.

(This photo of Magic Castle Hotel Snack List Menu is courtesy of TripAdvisor)
No. 3: An unlimited FREE Snack Menu at the Magic Castle LA!
We're all about food when we travel, and the Magic Castle Hotel in Hollywood in the United States has another food treat in store for guests – free snacks!
FREE sweet AND savoury snacks at any time of the day.
Take a look at the list of FREE American snacks on offer:
KitKat
Reese's Peanut Butter Cups
SourPatch Kids
Snickers
M&Ms
Granola bars
Popcorn
Pretzels
Peanuts
Chips (crisps), crackers, cookies, and MORE candy!
Plus cans of soda drink too.
WHAT kid (or adult) wouldn't be impressed with that?
(I'm told Business travellers love it too! )
It's exactly the kind of fabulous hotel service a solo travelling parent needs after the kids have gone to bed and you're watching a movie, but you can't leave the kids in the room alone to duck out to the convenience store for a late night chocolate snack.
Priceless.
No. 4: FREE Laundry Service at the Number One Hotel for Kids in LA
Parents everywhere will love this news. The Magic Castle Hollywood Hotel offers a FREE Laundry service.
Laundry is the LAST thing I feel like dealing with on a family holiday to America, but staying here, we don't have to.
The laundry is bundled away by magic, and returns all folded and wrapped up in a brown paper package tied up with string, with a twig of lavender for good measure. That's a godsend when you are travelling with kids. (Be sure to tip well!)
Seriously, can this place get any better?
YES, IT CAN.
We've left the BEST thing about the Magic Castle Hotel in Los Angeles till last.
No. 5. Magic Castle Hotel POPSICLE HOTLINE!
Floating around the 24 hour heated swimming pool and hungry for a little icy pole treat?
No problem.
The Magic Castle Hotel has the only POPSICLE HOTLINE we've ever heard of!
The Magic Castle popsicle hotline is THE BEST thing ever.
Book now to experience this cool novelty!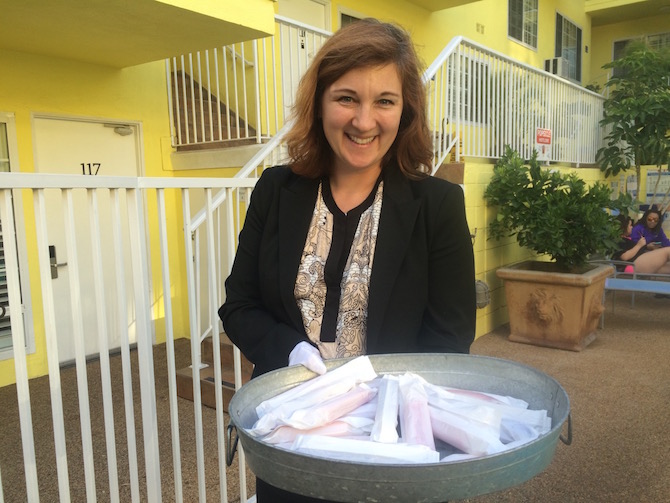 The Magic Castle Popsicle Hotline Service
Just jump out and simply lift up the receiver on the RED PHONE, the legendary Magic Castle Popsicle Hotline, at the Magic Castle Hotel apartments.
Soon enough, one of the Magic Castle Los Angeles Hotel staff will pop out to the pool with a tray of delicious popsicles for everyone to enjoy.

Magic Castle Hotel Reviews by Roam the Gnome
There are the reasons why my kids NEVER EVER wanted to leave this place, and why they keep begging me on a regular basis to go back.
But let's face it, the Magic Castle Hotel Popsicle Hotline tops the list.
We rate this OUR NUMBER ONE HOTEL in the World, and we've stayed in a few.
It's not the rooms, although the 3-star one or two bedroom suites are perfectly suitable for families or the FREE breakfast included – with vegemite toast on the menu!
It's not the location, even though you couldn't want for being closer to all the action, and an Uber is only a phone call away.
It's not even the floaty lifejackets they provide for the kids, or the warm fluffy towels.

WHY is the Magic Castle Hotel such a highly rated hotel in Los Angeles?
It IS absolutely everything else, including the new soft-serve ice cream machine that is wheeled out each day at 2.30pm for guests young and old.
The ice cream is FREE, and there's two flavours every day – vanilla, and a special surprise.
If you are looking for the best hotel for families in LA, book the Magic Castle Hotel Los Angeles without delay.
Don't believe us yet?
Then take a look at this:
The Magic Castle Hotel LA was winner of the 2011, 2014, 2015, AND 2017 California Hotel Lodging Association's award for "Best Guest Relations" in California.
They also have Certificate of Excellence awards from TripAdvisor from 2009-2019.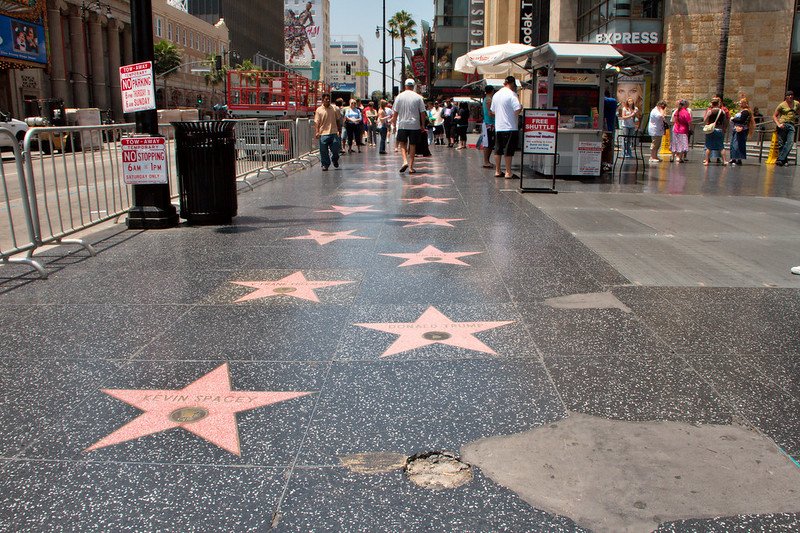 Image credit: Christian Haugan via Flickr CC by 2.0
Attractions near the Magic Castle Hotel Los Angeles
The Hollywood Walk of Fame, those famous Stars on Hollywood Boulevard? Just 3 minutes walk from the hotel.
You can't get any closer!
(Look out for Mickey Mouse – he has his own star!)
The Chinese Theatre, Madame Tussauds, the El Capitan theatre (Home of Disney films), and Ripleys Believe it or not! are all along the road.
Ghirardelli Soda Fountain & Chocolate Shop (6834 Hollywood Blvd.), the pit stop for old-fashioned sodas, ice cream & chocolate gifts galore is inside the Disney Studio Store on Hollywood Boulevard too.
Universal Studios Hollywood is one Subway stop away, or a 10 minute drive.
Go explore the Wizarding World of Harry Potter, take a tour on the backlot, or jump on one of their many rides. Buy tickets ahead of time from the reception to avoid their ticket line.

A Sneak Peek into the Magic Castle Hotel Hollywood
Here it is. The One and Only Popsicle Hotline at the Magic Castle Hotel.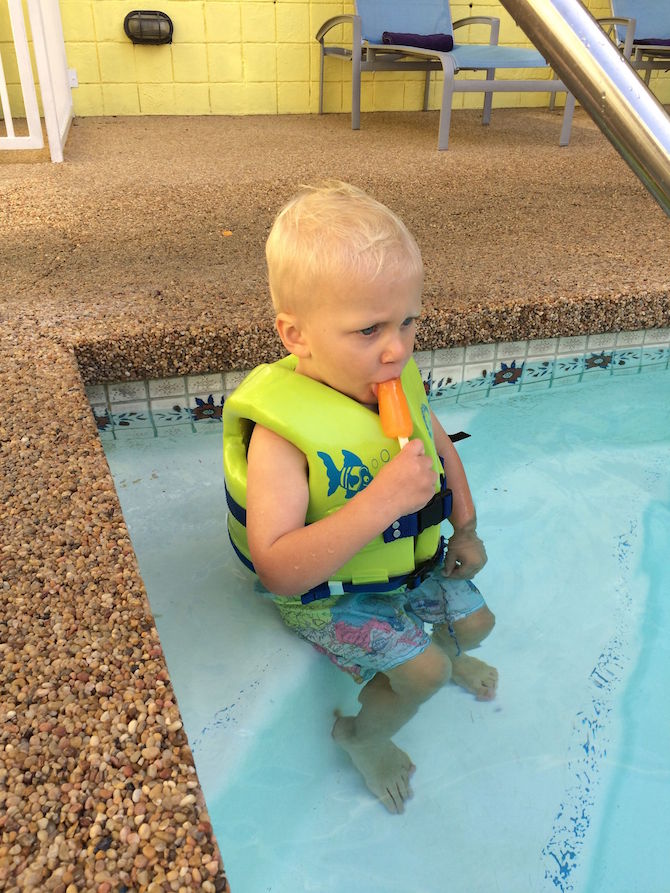 Life jackets are provided for little ones who can't yet swim properly too.

MORE REASONS TO STAY at Magic Castle Hotel
Service with a Smile
The Beautiful Staff at the Magic Castle Hotel make all the difference!
Nothing is too much effort.
They really do go out of their way to make your stay the most enjoyable ever.
We chatted to many guests who vouched they will only stay at the Magic Castle Hotel when visiting Los Angeles now. Almost everyone was a return guest, and there were LOTS of Australians around.

Spacious Magic Castle Hotel Rooms
The rooms at Magic Castle Hotel are clean, tidy, AND very spacious.
The interior design was perfect for families travelling with kids in Los Angeles – simple and minimalist, which is ideal when you have a (destructive/curious) toddler in tow. As a parent, I never want to have to move ornaments or fragile things out of harm's way.
Our only gripe was that the little one could open the front hotel room door by himself for a quick escape. But that's easily fixable with a chain lock on the top, or a door wedge.
Note to self: email a suggestion.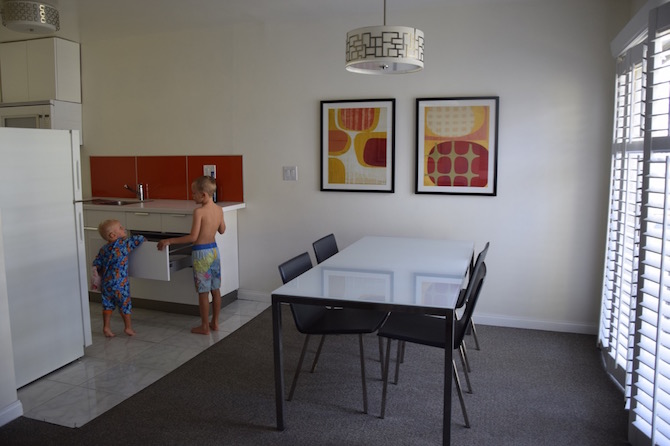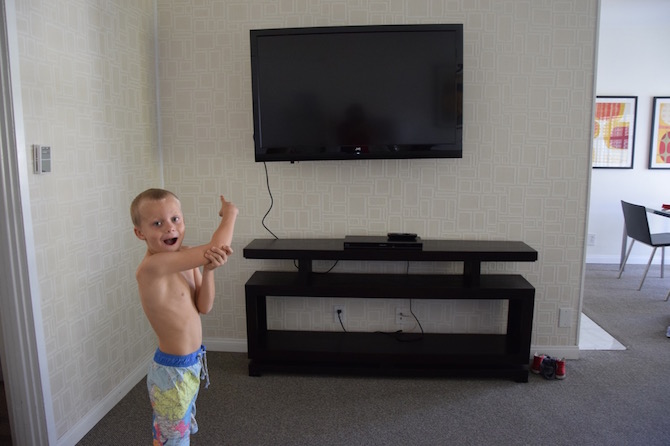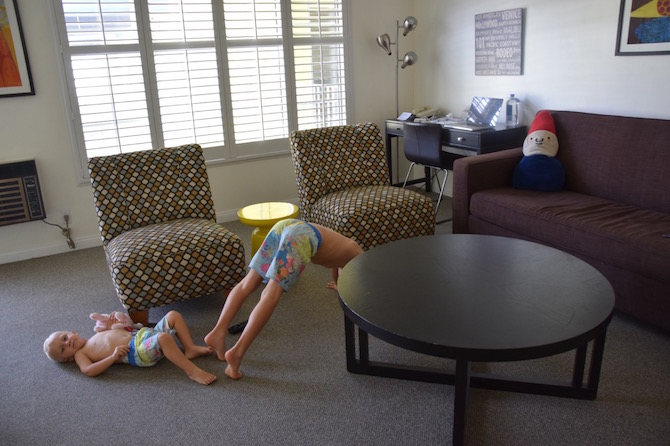 Child sized robes!
They LOVED the kid-sized hotel bathrobes and slippers after a swim too.
PS: Who needs toys?
These coat hangers were the perfect substitute!

The Magic Castle Hotel Pool
The sunny exterior of the hotel was a balm to our tired souls after 6 weeks world travel, and that warm pool was just the thing to revitalise the kids energy.
It was difficult to get them out of the hotel each day after such an epic trip, and one day, we didn't move far at all, except for a quick jaunt to buy dinner.
Happy boys, and creating happy holiday memories at the boy's favourite hotel in the world for kids.

The Magic Castle Hollywood Hotel Breakfast
Coffee, an array of tea choices, and hot chocolate is on the breakfast menu too.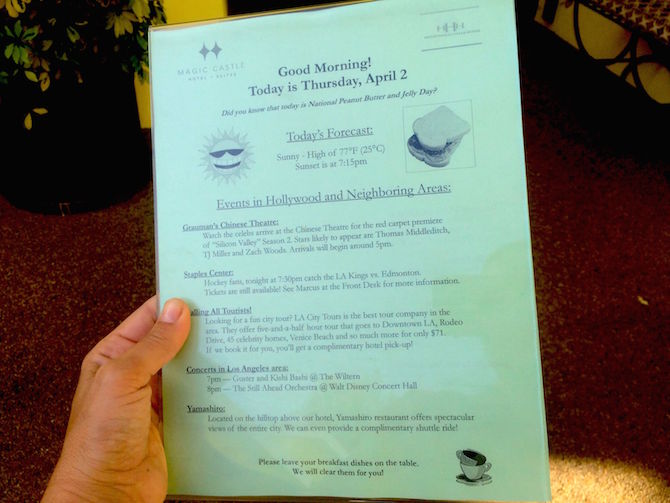 Local Events tips
There's a Good Morning Greeting notice on your breakfast table with all the day's events, concerts, and happenings too. This helpful tip sheet helped us plan our days in Los Angeles.
It's so good to have locals on hand to give you the inside scoop – their customer service goes beyond good!
Magic Castle Hotel Rates
Magic Castle hotel property is an affordable option for family accommodation in Los Angeles. It's not five star accommodation as far as the rooms go, but it's more than five stars for service and value for money. They have single rooms sleeping two, one bedroom suites to sleep up to five, and two bedroom suites that sleep up to six.
Room rates vary depending on how many people are in your family, and how many beds you require.
Book early to find the best rates.
Magic Castle Hotel Reservations
Book direct with the Magic Castle hotel California for the best savings, and secret extra bonuses.
The Inside Scoop – The Magic Castle Hotel Hollywood CA
Correct at time of publication. Please check with venue for updates. We apologise in advance if there have been any changes we are unaware of. All prices in US dollars, unless otherwise stated.
Magic Castle Hotel Address: The Location of the Magic Castle Hotel is 7025 Franklin Avenue, Hollywood CA 90028
Magic Castle Hotel Phone Number: 1 800 741 4915 (in USA)
Website: Click here
Hot tip: Bring a door wedge if you have kids under 5. The door handles are down low, and even my 2 year old could open it and get out. Drive a wedge behind the door to stop potential escapees.
Magic Castle Hotel Parking: $13 plus tax per night in the parking garage below.
Other amenities: Free Wifi, bathrobes and slippers, Tarocco bath products, turn down service, dvd player, air conditioning.
The Magic Castle Hotel Souvenirs & Gift Shop
You can buy Magic Castle Coffee Mugs, t-shirts and other souvenirs and keepsakes from the front office.
Do so.
We didn't know, and regret not having a fabulous souvenir mug to remind us of this fabulous LA hotel as we drink our morning coffee.

How to get to Magic Castle Hotel Los Angeles
Driving From LAX by Freeway:
Take Century Boulevard out of the Airport, stay in the right lane, to the SAN DIEGO Freeway North (#405).
Turn right onto the ramp.
Stay on the 405 North until you reach the SANTA MONICA Freeway (#10 East), stay towards the right lane, go right where it says LOS ANGELES. Get off at the LA BREA exit north.
Go about 4 miles towards north, pass Hollywood Boulevard to FRANKLIN AVENUE and turn right. The Hotel will be about 3 blocks further on your left.
Public Transport: We recommend booking a shuttle or UBER from the airport.

Map of the Magic Castle Los Angeles Hotel Location

Toadstool Rating
Want MORE Super Fun Things to Do in Los Angeles with Kids?
Click the blue links below.
Check back soon, as there's plenty more stories on the way!
In the meantime, check out these other cities:
Disclosure:
This website contains references to products and services from our favourite brands. Some of these are affiliate links. If you make a purchase or booking after clicking on one of these links on Roam the Gnome™, we may receive a small affiliate commission at NO COST to you. For our Disclosure and Disclaimer statements, and an explanation of our Advertising policy please click here
Roam the Gnome™ is a participant in the Amazon Services LLC Associates Program, an affiliate advertising program designed to provide a means for sites to earn advertising fees by advertising and linking to amazon.com, amazon.co.uk, amazon.ca. Amazon and the Amazon logo are trademarks of Amazon.com, Inc. or its affiliates.
Thank you in advance for your support in helping us to grow Roam the Gnome Family Travel™ Website Directory. Bookmark this page to keep us safe and sound.