INSIDE: The Complete Guide to Namco London with Kids. Updated 2019.
On the Southbank Promenade, on the Westminster Bridge side of the London Eye, is the County building housing the Namco London Funscape Carnival Arcade.
Namco Arcade London entertainment venue has everything you need for a rainy day in London to entertain the kids.
There's ten-pin bowling, American pool tables, the latest arcade games, Pac-Man arcade games, dodgem cars, an escape room and ping pong!
You don't even need to leave when hunger strikes. There's a bar/cafe on site!
Namco Funscape in London is a fabulous place to take a break from the serious side of London sightseeing when the kids can't bear another castle, relic, or slice of history.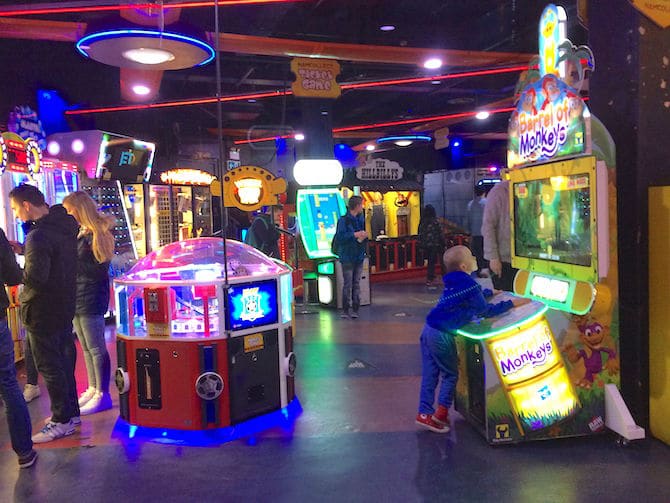 Three Levels of Fun for the Family at Namco London
Bright lights, big city! Walking in here is every kid's dream come true.
This entrance level floor is FILLED with the latest video games, AND lots of prize-winning ticket games.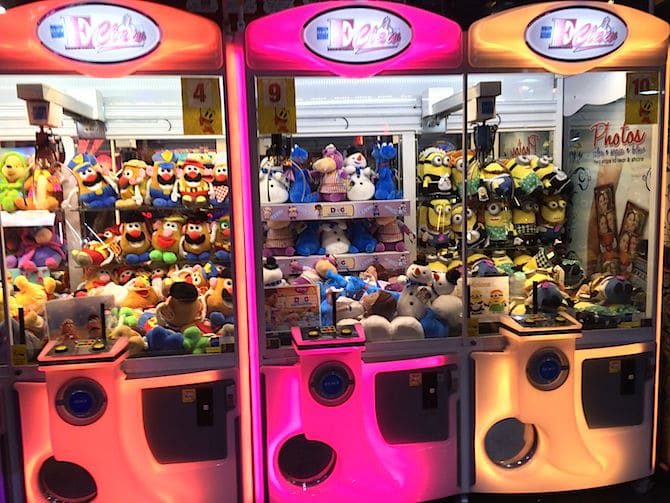 Level 1: Ground Floor for Arcade Games London style
Ned and Jack were more than happy to wander about, check out all the games, and play a few on this entrance level at Namco Funscape in London.
Try your luck on:
dance machines
coin pusher machines where you try and win a handful of change
cuddly toy claw machines with the latest popular soft toys including a claw crane game filled with MR POTATO HEAD stuffed toys! 
Shooting ranges shoot'em-ups
basketball hoops
air hockey, and
lots of cherished retro style games I remember from childhood including PAC MAN!
Lots of the games spit out tickets as your winnings. Collect as many as you can, then visit the Prize Shop on Level 2 to redeem a gift.
There's lollies and sweets, soft toys and branded merchandise including Marvel action heros and Super Mario stuff. Games range in price from 30p and £3 so it's not too hard on the hip pocket.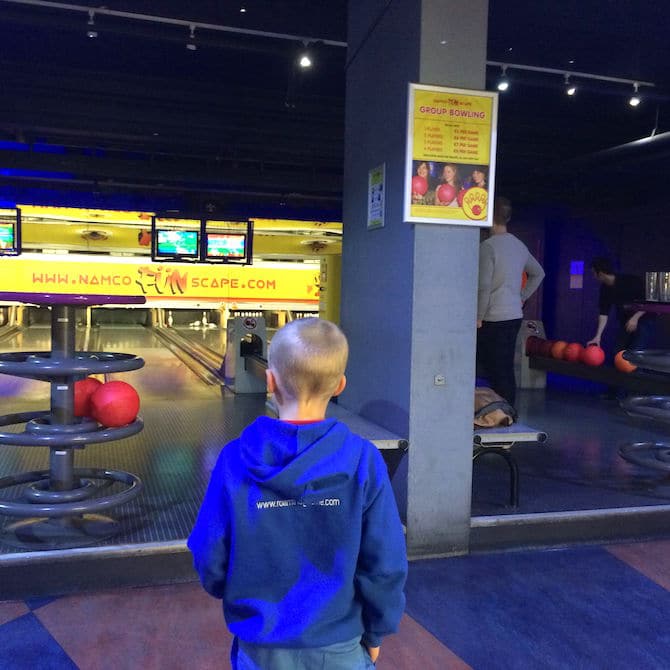 Level 2: Basement – Namco Bowling Central London
The main reason people visit Namco Funscape in London is to go indoor bowling!  It's the place to go if you are looking for bowling places in London.
Head DOWNSTAIRS to Level 2 – I know, the levels here are back to front – into the basement to kit up for a session of indoor bowling at this bowling alley London style.
Namco Bowling Prices
Namco Bowling prices start from £6.95 per person per game, if you play BEFORE 6pm, Monday to Friday.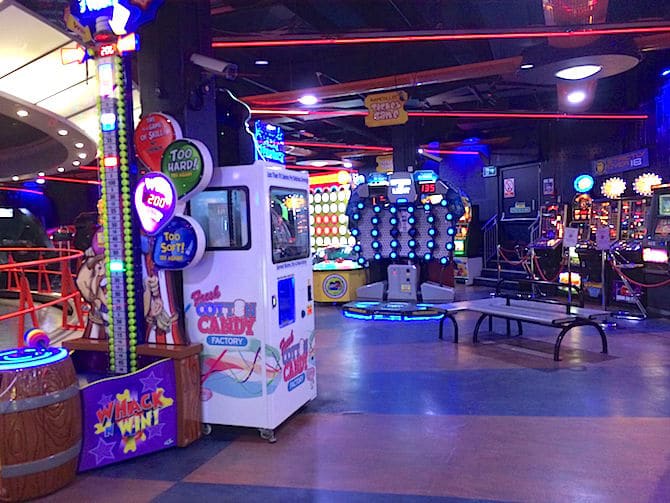 Simulator Rides at Namco County Hall
You'll also find:
More video games and simulators including Ned's favourite, the Typhoon.
More Prize-winning ticket games
Fruit machines
A Cotton Candy making machine!
Lazer maze
Private Karaoke
Race car simulators
More simulators including downhill skiing, skateboarding or cyber cycles
Rides start from £1 a go.
Namco Funscape Prizes counter
If you collect prize tickets as you go round the arcade games, you'll need the Prize Shop located on this floor.
The range of Namco prizes also includes everything from keyrings, pencils, rubber erasers, plastic toys, soft toys, and if you are very good at arcade games (or spend a lot of money), the top prize is a games console!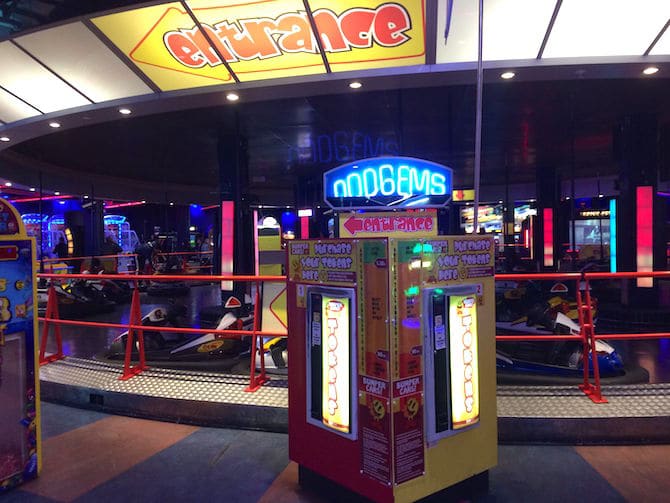 Fun Dodgems at Namco Amusement Park in London
If you haven't yet introduced your kids to the fun and laughter of Dodgem cars, why not now? The dodgems in London here at Namco station are the fastest dodgem tracks in Europe!
Dodgem Bumper Cars cost £3 per ride per person. Max 2 people per car.

Level 3: Sub-Basement – Ping Pong
Level 3 in the sub-basement – there's that strange floor guide naming thing again – is for the BIG kids (adults!)
There's:
More video games, and simulator rides
A Pool Hall filled with full size American pool tables.
Bar and Lounges with Sky TV, and Costa Coffee
Challenge your kids to a game of ping-pong!  (from just 25p per minute happy hour price, or 50p per minute otherwise)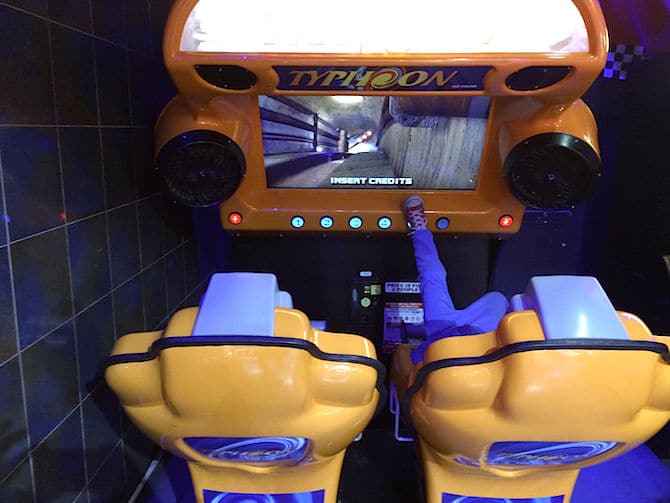 Namco Funscape Escape Room
The newest addition to the Fun at Namco arcade Southbank is the Escape room. This is the challenge where you must escape the room in just 765 seconds by solving a puzzle designed to trick you and your friends!  There's lots of clues to help but it's a brain teaser for sure.
From £30 for up to 6 people. Take the whole family in!
Namco Funscape London Review by Kids
I set Ned, and Roam the Gnome the task of doing a Namco Funscape London Review.
Here's what he thinks: 
"It's fun here.
My favourite game was the Typhoon where you ride a speed roller coaster.
Jack sat next to me.
The chair moved and bumped and rocked me around.
I loved it so much Mum let me have two turns!
My other favourite things were watching the dodgem cars, and trying to win a toy on one of those 'pick me up' machines but this time, I didn't win.
I could spend hours here if Mum would let me.
There's so many cool games to play"
Cafe at Namco World London
The Namco Funscape cafe at the main bar sells hot and cold drinks including hot chocolate for the kids, tea, coffee, cappuccino.
Kids meals are £4.99 and include a main (burger, pizza, nuggets, fish fingers or sausages) served with chips and either baked beans or spaghetti hoops. Plus a dessert of ice cream, and a drink.
Adults can snack on food from the Namco funscape bar cafe. Order mozzarella panini bread, loaded nachos, wedges or fries, or if you are really hungry, order something from the grill.  There's the full selection of burgers, steaks, pizza, scampi, fish and chips, ribs and wings.
There's also a sharing platter of chicken wings, wedges, breaded mushrooms, onion rings, garlic bread, and nachos if you can't decide!
Download the current menu here.
Our Namco Funscape London Review Tips
If you are in the area, having visited the London Eye with kids, the gorgeous nature playground below the London eye called Jubilee Gardens playground, or any of the other fun family activities in this building (Shrek's Adventure, SEALIFE London Aquarium, or the London Dungeon) and have a spare hour or two, this arcade near London Eye is a fun spot.
It's one of those places you can just walk in and play. No real need to book bowling unless it's Friday night after work, or Saturday night.
Don't make a special journey unless you are desperate to go indoor bowling in Central London.
McDonald's is just next door, so pop in to pick up a cup of your fave blend for a budget price, and take it with you as you follow the tribe around.
There are change machines available, but no ATM (automatic teller machine/cash point).
Families and kids should stick to Levels 1 and 2.
The sub-basement level is a little too dingy and grungy for me.
I wouldn't take my kids there, but there's no need with all the really fun stuff for kids on the first two levels anyway.

The Inside Scoop – Video Game Arcade London
Correct at time of publication. Please check with venue for updates. We apologise in advance if there have been any changes we are unaware of. All prices in pounds.
Address: Namco Westminster can be found at Southbank, County Hall, Riverside Buildings, Westminster Bridge Road, London SE1 7PB, England
Telephone: 020 7967 1066
Website: Click here 
Email (guest relations): countyhall@namco.co.uk
Namco Funscape London Opening Times: 10am until midnight daily
Namco Funscape Prices 
Entrance is FREE
Pay per use on games, simulators and rides
How to get to Namco Funscape
By tube: Namco Funscape is located within easy walking distance from several London Underground stations: Waterloo, Embankment, Charing Cross, Blackfriars and Westminster. Jubilee Line stations have disabled access.
By rail: The closest rail stations are Waterloo and Charing Cross.
By boat: You can travel to the Namco Funscape on the Thames Clippers. Exit at London Eye Pier.
By bus: Bus routes include The Riverside Bus (RV1) and sightseeing tour buses. Visit TFL to plan your journey.
By car: As well as meter bays located around the streets of South Bank there are also a number of car parks. The Hungerford Car park will be closed until September, but the Hayward Gallery Car Park, National Theatre Car Park and The Union Car Park will be open.
Please note that County Hall at Southbank is within the Congestion Charge Zone. 
Map of Namco Station in London
Namco UK
Namco Funscape has 6 more easily accessible entertainment centres across the UK too.
Here's the list of venues:
Funscape Braintree bowling
Namco Funscape Manchester
Funscape Gateshead
Namco Funscape Norwich
Funscape Romford
Funscape Tamworth
They also host parties for both kids and groups of adult friends, and corporate functions too.
Toadstool Rating (by the kids) – Namco Arcade London
If you are in London on a rainy day with absolutely nothing else to do, and you want to kill a bit of time playing Namco arcade games at this Namco Southbank arcade games hotspot, the kids will love you forever!
Looking for More London Museums for Kids & Things to do in London?
Subscribe
Bookmark Roam the Gnome
Disclosure:
This article may contain affiliate links. This means if you make a booking or purchase after clicking on one of these links on Roam the Gnome™, we may receive a small affiliate commission at NO extra cost to you.
Roam the Gnome™ is a participant in the Amazon Services LLC Associates Program, an affiliate advertising program designed to provide a means for sites to earn advertising fees by advertising and linking to amazon.com, amazon.co.uk, amazon.ca. Amazon and the Amazon logo are trademarks of Amazon.com, Inc. or its affiliates.
Thank you in advance for your support in helping us to grow Roam the Gnome Family Travel™ Website Directory