Hot day in the city?
The kids feeling tired and grumpy?
Need a cool change?
Head straight to Prince Alfred Park Pool and their fancy splash pad for toddlers and young kids.
There's a big 50 metre public pool. Older kids who can swim will be first in.
Then there's plenty of room under the shade of those eye-catching yellow umbrellas when you need a snack or drink break on your family adventure.
Right in the heart of Sydney next to Central train station, Prince Alfred Park Pool is THE place to cool down when you are desperate to get out of the house.
The Prince Alfred Park Pool:
is temperature controlled, so it will never be too cold!  (It's Sydney's first heated outdoor pool, so you can stop by all year round)
opens 4 lanes for public swimming at all times
has a fully accessible ramp into the water
has grandstand bleachers covered by those fab umbrellas, grassed areas for picnics, and sky-lit change rooms (no more dark and dingy changerooms to deal with!)
has a community hub café onsite (The Whisk and Paddle)
offers birthday party packages and "Learn to Swim" classes too
has a range of aquatic fitness classes including aqua zumba, deep water running, and swim fit. Check out the timetable here 
a swim shop with a wide range of quality googles, caps, bathers and equipment from two of the industry's most respected brands, Speedos & Zoggs, just in case you forget the kids' goggles (like we do on a regular basis)
Check out the Prince Alfred Park pool website for upcoming events and school holiday programs.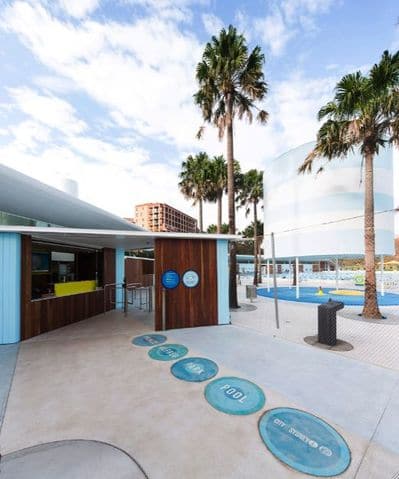 Toddler Splash Pad
50 metre lap pool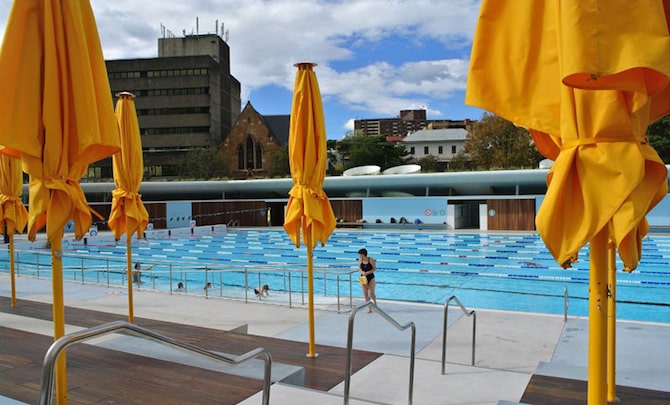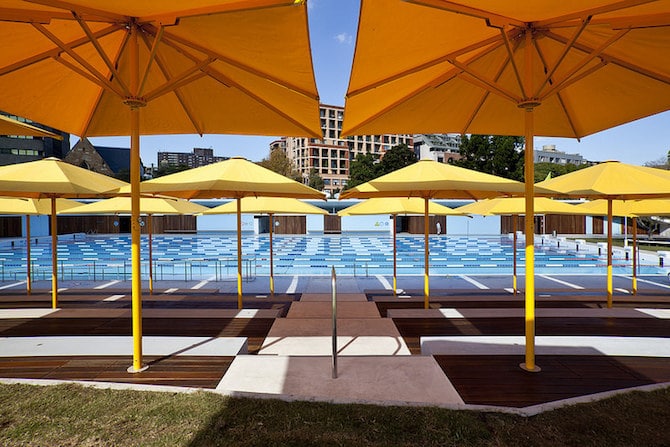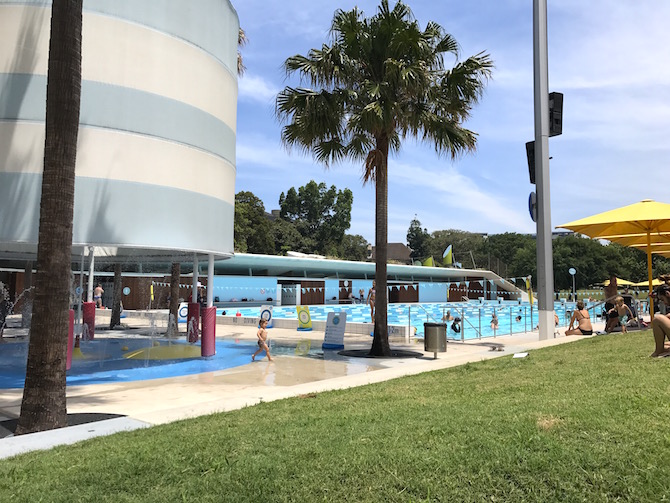 The Inside Scoop – Prince Alfred Park Pool
Address: The Prince Alfred Park Pool address is 105 Chalmers Street Surry Hills NSW 2010
Phone: 02 9319 2727
Opening Hours: The Prince Alfred Park pool hours in 2018 are as follows:
During Non-Daylight Savings time the Centre is open during the following times: Monday to Sunday – 6am to 7pm
During Daylight Savings time the Centre is open during the following times:Monday to Sunday – 6am to 8pm
Public holidays: 7am – 7pm
Closed on Good Friday and Christmas Day.
Cost: The Prince Alfred Pool entry fees in 2018 are:
Adult – $6.50
Concession – $4.90
Child – $4.90
Child under 3 – free
Spectator – $3.50
Family (2 adults, 2 children) – $18.40
Extra family member- $2.60
Nearest takeaway coffee: The Prince Alfred Park pool cafe is the The Whisk & Paddle Cafe. They offer a menu of light fresh meals, freshly made juices, a daily sweet selection, and delicious Black Market Roasters coffee. Open for breakfast and lunch daily. Check the menu here.
Parking:
There is no on-site dedicated parking at Prince Alfred Park pool.
There are paid parking areas along Chalmers Street when bus lanes are not in operation, please check signs for timings.
There is also a mix of 1 hour street parking and paid 2 hour stare parking within 5 minutes' walk of the centre on surrounding streets. This can be quite limited and time may be needed to find a suitable parking spot.
Public Transport Options:
There are several buses that stop next to or are in close distance from Prince Alfred Park Sydney Pool. These include the M20, M50 and 353 routes that travel along Chalmers Street towards the CBD which stop within 50 metres of the entrance to the centre.
There are several buses that stop within 5 minutes from the centre on Elizabeth Street and within 10 minutes from Railway Square travelling both towards and away from the CBD. The closest train stations is Central Station which is 350 metres away.
To plan your trip, visit Transport NSW or call 131 500.
Toilets: Yes
Shade: Yes. Umbrellas available over viewing platforms.
Enclosed: Yes. Please keep a close eye on little children near the water.
Ground cover: Concrete pathways, grassy field
Food options: Cafe on site.
Water Bubblers: Yes
Scooters and Bikes: No.
Dogs: No
Notes: Avoid the busiest times:  6:00am – 7:30am and 5:30pm -8:00pm (daylight savings time) or 5:30pm – 7:00pm daylight savings time) Monday to Friday.
Looking for more SUPER DOOPER FUN THINGS TO DO IN SYDNEY?
Click the blue links below.