Must Buy Rome Gift Ideas & Souvenirs for Kids
Looking for things to buy in Rome for souvenirs and gifts for friends and family? We have made a list of the things we put at the top of our 'What to Buy in Rome' list and we hope you might find it useful too.

Tips for Visiting Rome

When travelling around Rome with kids, no doubt much of your souvenir shopping will be for them but these Rome souvenirs make great gifts for other family members, neighbours, and friends too. We've included what we think is the best toy store in Rome for super cute mementos and keepsakes but just in case you fancy picking up a beautiful Italian leather handbag or two, we've included a link to our favourite Shopping Street in Rome too. The best souvenirs from Rome list is below, in no particular order.

What to Buy in Rome for Kids and Families
1. Gladiator Suit

We spotted these plastic Gladiator Suits from time to time as we wandered the streets of Rome, but it wasn't until after THIS amazing Gladiator Training experience that Ned decided he needed a suit of his own. At around 15 Euro, it wasn't the cheapest souvenir we've ever bought, but it was definitely one of the most loved. We put this costume at the top of our What to Buy in Rome List for good reason- to this day, it sparks memories and conversations of that wonderful time of family adventure.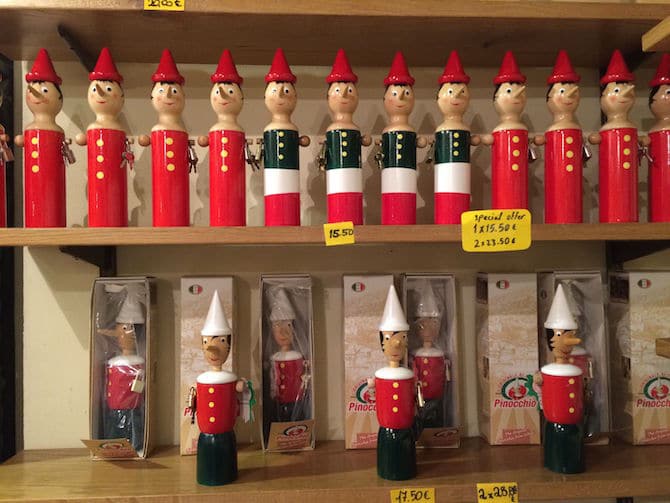 2. Pinocchio Paraphernalia

There's no way you can visit Rome without meeting at least one Pinocchio doll you can't leave behind. A wooden Pinocchio doll is the ultimate Italian souvenir for all ages. Everyone loves this little tyke. This Pinocchio Toys Shop near the Trevi Fountain is the spot to gather up a bunch of Pinocchio-inspired toys and souvenirs in one swift go. We loved it here and as our AirBNB apartment was less than 50 metres away, we visited daily!


3. Italian Toy Brands at Little Big Town

At Little Big Town Toy Store, we recommend walking straight past the everyday brands of toys you can find in any good toy store, and seek out the range of Italian toy brands such as Spryza, Air Hedz, Flitter Fairies, Play Foam and magic tricks packs by Marvin Magic! A unique toy from Italy is the perfect gift for a child back at home.


4. Buttery Soft Leather Handbags

The best shopping in Rome for leather goods is on this street. We stumbled upon this Rome shopping street accidentally after many hours and days of searching long and hard for affordable or cheap leather handbags and shoes. It was our BEST find of the week and we can't wait to go back. There's so many souvenir options here too – bags of all shapes and sizes, gloves, shoes, wallets, purses, keyrings- in fact, something for everyone. You'll never be stuck wondering what to buy in Rome for them.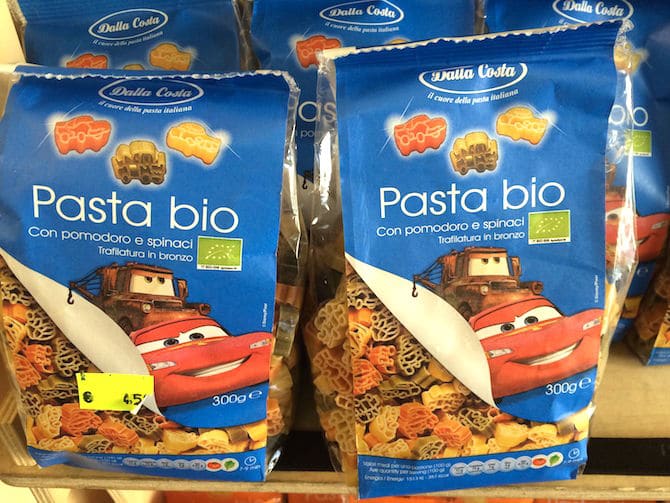 5. Fun Pasta Packets for Eating at Home Adventures

My kids couldn't believe their eyes when they saw these bags of fun pasta shapes a la Disney Style. At just over 4 EURO a packet, this was not your normal everyday pasta that's for sure. Yikes. But yep, they went straight into the suitcase for the journey home. Continuing on the 'Souvenirs you eat' theme, a giant jar of Italian nutella wouldn't go astray, nor would Italian chocolate. (Little Big Town Toy Store has a wall of chocolate for sale on the ground floor near the counter, all wrapped up and ready to go. If you are really stuck for what to buy in Rome for a particular someone, I'm sure they'd be happy with this.)

Shopping in Rome Italy – off the beaten track

If you are looking for things to do in Rome, we suggest digging a little deeper than the main shopping streets in Rome (Via Del Tritone, Via Del Corso) and walking the back streets. Our explorations on foot near the Vatican led us straight to the souvenir shop where we bought Ned's plastic gladiator training suit at half the price we'd seen earlier. And we would never have found the little Pinocchio shop hidden on a back lane without a gentle meandering.

Plus, you'll have the bonus of finding things you've not seen elsewhere, unlike in the multinational stores that clog up the main roads.

We'd love to know your best Rome shopping finds too! What would you put on your 'What to Buy in Rome' list? Tell us in the comments below.
Looking for MORE SUPER DOOPER FUN places to visit in Rome?
Click the links in blue below.
Disclosure: If you book hotels or activities, or buy products through a link on Roam the Gnome, we may receive a small affiliate income.
Thank you for your support in helping us to grow this Family Travel Directory.